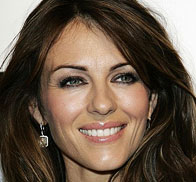 Elizabeth Hurley is launching a line of low-fat organic food. The actress-model focuses on low-fat food because she is sure that would help in prevention of breast cancer. Elizabeth Hurley set up her own Breast Cancer Research Foundation after her grandmother died from this disease. According to Foundation, breast cancer is detected in one woman every two and a half minutes in the US.
The actress says women's health is directly linked to their diet. Specialists recommend sticking to as low-fat a diet as possible, which all has to do with how estrogen is stored in the body. If woman is taking the advice, she will soon find the need for natural and healthy food instead of those supermarket foods crammed full with chemicals.
I hope Liz who, in her own words, never misses a chance to enjoy chips and chocolate will come up with the idea of how we can safely eat as many goodies as we want.
Elizabeth Hurley photo: inyourface.freedomblogging.com.