These days when cool drinks are so much in demand and are welcomed at any occasion, it's a good idea to have at your disposal a number of devices to keep drinks cool, permitting your guests to enjoy them at their leisure without gulping them down or getting in each sip warmer than the previous one.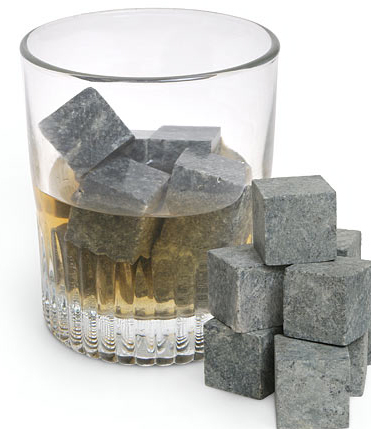 Good old ice cubes add water to your drink as they melt, taking away the edge of the flavor. A better way is to freeze fruit or juice and use them as a cooling agent, but only if you like a fruity flavor for the aftertaste.
But there's a good way of keeping the beverage cool without mixing in water or extra shades of taste – put in Whiskey Stones. They are soapstone cubes that will neither dilute your drink nor add any alien taste to it. Get them chilled in the freezer for a couple of hours and afterwards give them a good wash and a dry-off before returning to the freezer.
Despite their eloquent name, Whiskey Stones can be used with any beverage.
Source of the image: Thinkgeek