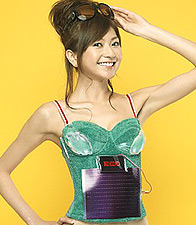 Literally every woman wears bras. They support the bosom, they are used to adjust visually its from and size. There are special bras designed to be worn during the workout. The form and material of the bra is chosen according to the outfit one intends to wear. Nevertheless, scientists keep surprising us with new innovations which make women's life more comfortable! This time the new invention was introduced by a Japanese underwear manufacturer, the new item was announced to be an ecologically clean device – a bra with solar batteries.
A usual bra acquired a removable solar–battery panel, so that ladies no longer have to worry about their iPod or cell-phone running out of energy. The product also has special plastic water-filled "pockets", which makes it easy to stay well-hydrated at all the times. The new product is characterised with excellent, high-quality organic cotton, making the underwear extremely ecologically clean.
Unfortunately, the product will not be publicly released any time soon, since the wonder-bra is still in the "concept" state of development. The invention still has a number of shortcomings, which require elimination. For instance, the device will be broke once exposed to rain, or the solar battery losses its effectiveness when worn underneath the clothes. Due to those limitations, representatives of the Japanese company Triumph International admit, the current form of the product probably will not get a high demand. Besides, many will probably agree with me on this, it is hard to describe this bra as particularly appealing.
A little side note, among the earlier creations of the company are bras that transform into a shopping bag and bras that can be used as chopsticks.