The most up-to-date ZINK technology (the name is derived from Zero Ink) is about manufacturing special paper made with composed material. When heated, cyan, yellow and magenta crystals that are incorporated into the paper produce all the necessary colors in millions! The modules employed can be so small that even photos of 2 x 3 inches size come out just perfect.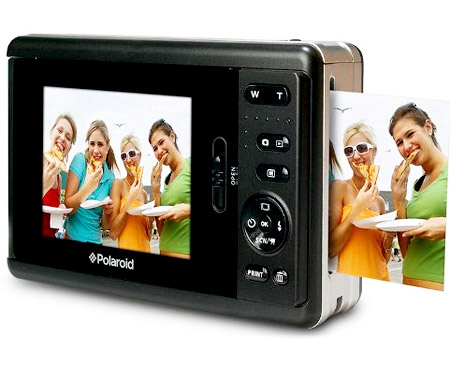 Making use of the innovation, Polaroid set out to invent a handy-sized digital camera that gets your pictures done automatically immediately upon shooting. It is the first digital camera of that kind, coming in the wake of the PoGo Instant Mobile Printer that has already made a name for itself on the market. The printer is a portable affair made on the same technology.
The UK price for the Polaroid PoGo Instant Digital Camera with a built-In ZINK printer comes to £229.95 (nearly $366). Besides the printer this sum buys you a 3-inch LCD, a pack of photo editing tools, 16 MB of internal memory and a rechargeable Li-Ion battery.
Source of the image: mydigitallife.info.