It's cool enough to make a shoe that looks like a guitar, but hey, girls, that's the one you can also play on! With the E-Shoe like that it's a matter of days before you become a hit-making artist and it's a matter of minutes before you earn the reputation of a fashionista.

The stylish part of the shoes goes back to Max Kibardin, the shoe designer that came from Siberia. The instrumental part takes us to Chicks on Speed, who call themselves a "multidisciplinary art group" that founds their concepts on "punk-inspired DIY ethic."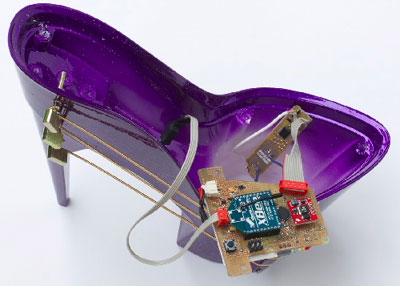 The E-Shoe's strings have touch sensors that send out MIDI signals to be picked by your PC or laptop wirelessly. One cool way for musicians to have their instruments anywhere without their getting in the way, are drums on bras coming next?
Source of the image: Craziestgadgets.