Cyclists who have been wrinkling their noses at the normal cycling helmet but had to put up with it for years now have a gift from designers that will enable them to dispose of the cumbersome headwear and yet be fully protected.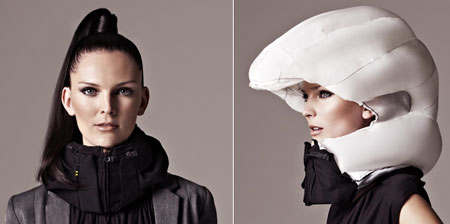 Requests to create a helmet that would not wreak havoc with your hairdo have long been lodged, and six years of work resulted in the "Hovding" helmet, the glorious invention of Swedish designers Anna Haupt and Terese Alstin.
Terese Alstin pointed out that "preserving the sense of freedom and not ruin your hairstyle" were the chief considerations behind inventing the scarf-like helmet, and she "feels great" and satisfied with the result.
The thing looks like a loose scarf around your neck; it is equipped with accelerometers and gyro-meters that react to sudden jolts. In a matter of 0.1 seconds the Hovding – that is built around the lines of a car airbag – inflates with helium, forming a protective headcover, the only time when it interferes with your hairstyle.
The price you pay for keeping your hair in place when cycling comes to £260.
Source of the image: Newslite.