The glaring beauty of the new Miss Universe caused some inquiries whether her appearance had been in any way augmented by surgery. But before expanding on particulars it is worth mentioning that the freshly crowned Leila Lopes, former Miss Angola, took Sao Paolo, Brazil, by storm with her radiant loveliness, showing to the world a beauty queen in the most resplendent meaning of the world.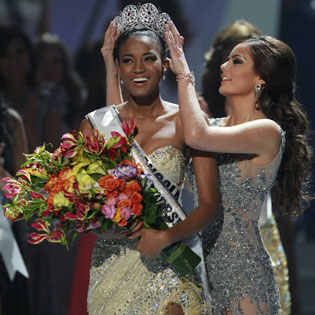 Therefore it's small wonder that during the press conference following the crowning, Lopes was pelted with questions about her looks. Expectedly someone came up with a question about cosmetic surgery, and Miss Universe replied she had had none of that. The very idea of forcing changes on her natural appearance goes contrary to her upbringing, she said, and all the beauty she had was gained and maintained by getting enough sleep, enough water and enough sunscreen.
Lopes said she had inherited many marvelous principles from her family to which she clings, and one of these is her faithfulness in the inner beauty. The new Miss Universe is sure she has all the reasons to be profoundly "satisfied with the way God created me" and she won't even think of trying to change something about herself.
Having left behind other top-fivers (from Brazil, China, the Ukraine and the Philippines), Lopes emerges as the third black woman to win the title and the second woman from Africa in the 59 years of the existence of the competition.
The gorgeous belle is planning to make use of her title to join in the struggle against HIV and assist several social causes. She is also joining forces with institutions working towards diminishing poverty in her native country.
Source of the image: Ibtimes.