Movie hits often become the source of inspiration for collections of nail enamels in recent times. For example, China Glaze has released a collection dedicated to "Hunger Games" blockbuster, and Elizabeth Banks became the face of it, while OPI has produced "Burlesque" nail enamels.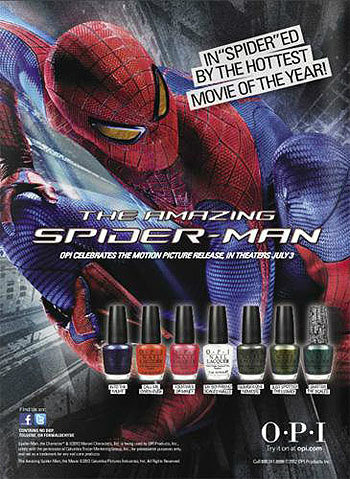 But this time, the OPI company moved further: in anticipation of the summer premiere of "The New Spider-Man," the company made the title character the "face" of the campaign and its muse, leaning above the nail enamels on the billboard. Quite an unexpected choice, we can say!

The thematic line includes seven shades with the names like "Your Web or Mine?", "Enemy Number One", "My Boyfriend Climbs the Walls" and others. Witty girls will appreciate it!
Most likely, "Spider-Man" nail enamels will be available on sale by mid-May.