Supermodels are no longer daunted to be seen without makeup. Moreover, glossy magazines are getting more tolerable to makeup free idea. Models now want to be simple, not a kind of heavenly creatures.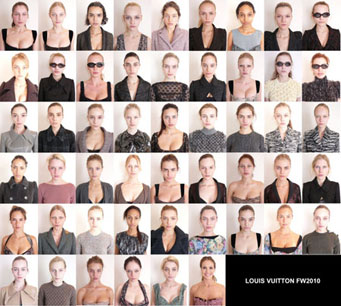 Following the acceptance of plus-size models, makeup free trend emerged. The Marie Claire magazine just recently ran an issue featuring makeup-less models, even in advertising photos.

Here is how the story's unfolding.  A new advertising campaign by Louis Vuitton for Fall/Winter 2010 exclusively appeared in Love magazine featuring models from the recent Paris fashion week wearing no makeup at all. The campaign gathered about 50 models, including Elle Macpherson, Rosie Huntington-Whiteley, Bar Rafaeli, Adriana Lima, Laetitia Casta, Lara Stone and Coco Rocha.

Now guess who rebelled against makeup free ad photos? Men! The majority of Reddit web site male audience who discussed Louis Vuitton's new ad campaign blasted the idea. They said that makeup-less models lack attractiveness as they have haggard and flabby looking faces, tremendous forehead and hollow eyes. Some even said those models looked like patients in the hospital or drug addicts.

So may be it is men who really make women try to look like models on glossy covers?
Source of the images: sodahead.com.