Pleasure or precision? If you choose the latter, in future it may be a robot who will be doing your face. Want to get a feel of it? Here's a futuristic ad from the makeup brand Nars intended to impress us with their new Larger than Life Long-Wear Eyeliner that is expected to be not less accurate than a laser.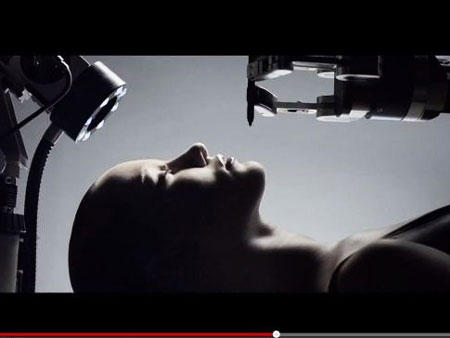 The ad shows model Emily Baker, scantily clad in underwear and heels, yielding to highly technical ministrations of two robot arms on a surgical table. In a process resembling an operation or some engineering adjustment a mechanical arm picks up an eyeliner and proceeds to apply it.
A Fabien Baron direction, the ad is to inspire the watchers with "precision application" that promises a "striking impact."
Nars claims the Larger than Life Long-Wear Eyeliner is good for 12 hours wear free from caking and smearing. It comes in nine shades bearing the names of famous streets all over the globe, like a deep plum Bourbon Street or a royal blue Rue Saint Honore. The robot-precise eye pencil retails for $23.