You are certainly waiting, as we are, for the first commercials and advertising pages with Jennifer Lopez, the new face of L'Oréal Paris cosmetic company. We have already written about the video, so now we are focused on the printed advertisement.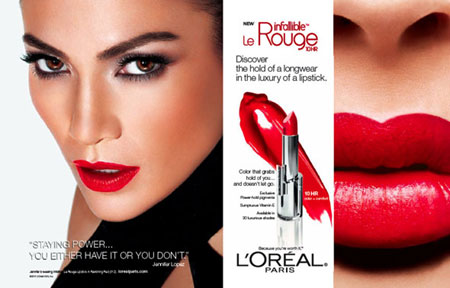 Jennifer Lopez is currently a very influential woman. Her new hit American Idol reflects her achievements in some degree. You bet! Nominations and wins at the Grammy Awards and Golden Globe ceremonies, her work in TV shows and participation in charity programs make her famous.
The first L'Oréal products which the star began to advertise were chosen from the line for hair straightening and smoothing. TV commercials appeared in January, 2011, and print advertisements with Jennifer will debut in February and March issues of gloss magazines.
The new printed advertisements display Lopez promoting L'Oréal Paris Infallible Le Rouge lipstick. A classic red shade of the lipstick was selected for the image of the actress and singer. Accentuated with smoky eyes, the celebrity's face looks especially luxurious! Steel gray and silver shades are used in the inner corners of the eyes. The eyebrows are underlined with cream shadows, with bronzer used as a blush.
Source of the image: Stylelist.