Everybody admired the lips with crystals at the Dior Couture Spring 2013 show, but few people noticed no less impressive eye makeup. Apparently, the "cat eye" from Dior makeup artists was an ideal thing thanks to two new Dior products, which are now available to us.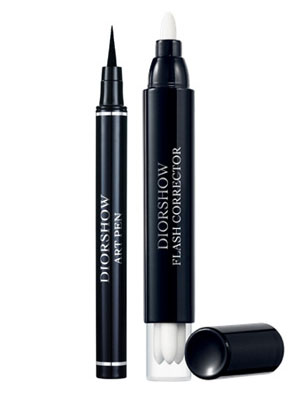 Diorshow Art Pen
Back in January, Dior makeup palette included Diorshow Art Pen. This is a liner in the form of a pen. It is very easy to use if you want to make an even line. Moreover, the liner has been produced in a new onyx shade this month.
Flash Corrector Pen
Another novelty of this month is Flash Corrector Pen. Makeup artists recommend using it together with Diorshow Art Pen. It is a two-side wand makeup eraser. Its tips are saturated with liquid makeup remover, and you can fix your makeup quickly, imperceptibly, and at any time.
By the way, Flash Corrector Pen eraser can also be used to correct lip makeup and eye shadows.