Dior Innovation Center restlessly improves and updates Dior Addict Ultra-Gloss – lipgloss, which delivers exceptional features: effective glow, volume, and beautiful palette of shades with special effect of unbelievably light veil. The new product will become available for sale on April 1, 2010.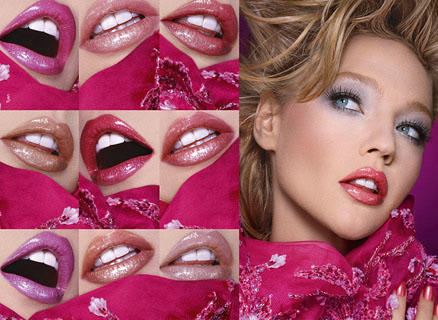 New lipgloss from Dior is a truly exceptional accomplishment:
New " moisturizing" texture is light, not waxy, and not slippery
Ultra-volume and ultra-glow are delivered thanks to the innovative complex Spotlight Shine: glass micro-pearls with crystalline elixir coating, which has very unique refractive properties.
Ultra-popular palette includes 18 shades Haute Couture, which are remarkably expressed in 3 different palettes: Glow, Pearl, and Flash.
Glow effect palette contains bluntly pure shades with the "second-skin" effect; the colors are very light, add glow, and deliver perfect beige or pink shades, or plump lips effect.
216 Beige Dentelle/ Lace Beige
236 Orange Satin/ Satin Peach
247 Rose Coquette/ Pink Flirt
256 Rose Déshabillé/ Negligee Pink
652 Bois de Rose Coquin/ Mischievous Rosewood
522 Mordoré Privé/ Intimate bronze
Pearl effect palette contains very soft and delicate shades:
157 Rose twin Set/ Twin Set Pink
436 Capeline Abricot/ Apricot Cloche
556 Corail Fantaisie/ Coral Fantasy
576 Rose Sari/ Sari Pink
257 Rose Trench/ Pink Trench
267 Rose Cache-Cœur/ Cashmere Pink
Flash effect palette carries bright, daring, and ultra-sparkling colors:
662 Grenadine Extravagant/ Extravagant Grenadine
686 Fuschia Indécent/ Outrageous Fuchsia
856 Rouge Fourreau/ Little Red Dress
557 Rose Empire/ Empire Pink
732 Orange Bolero/ Orange Bolero
982 Black-Tie Prune/ Black-Tie Plum
Source of the image: front-row-view.com.