It's autumn outside, and it means that it is time to change the image. Let's hide tempting sundresses, cropped tops and mini-skirts in the wardrobe. It is time to update our wardrobe with cozy sweaters, jeans and stylish glamorous dresses. The final touch would be to make a first-class make-up on the basis of Haute Couture Fall-Winter 2014-2015 beauty trends.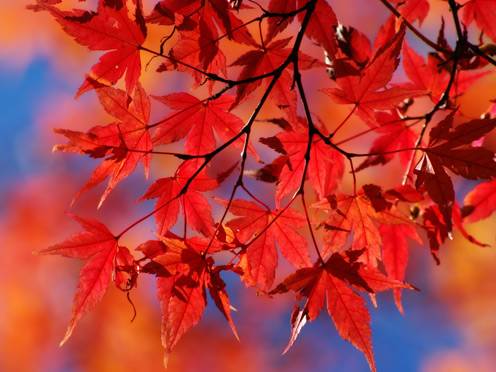 According to statistics, 56 percent of women change their makeup not more than once in 11 years! You should correct this mistake immediately, referring to the most topical makeup products, great mood and fashion inspiration for help. With each passing day, it is necessary to look better and improve your own irresistible charm. Select the beauty focus for you and make it a reality!
Rainbow
Highlighting your eyes with an eye liner is a real fashion hit of the coming season. Daring fashionistas will prefer juicy neon colors, whereas "hostages" of the business dress code will find deep tones of emerald, plum, and gold more suitable. Complement your look with the suntan powder (of course, if you have not got your own suntan while relaxing on the beach resorts of the world) and a lip varnish. By the way, the second product is a true beauty novelty, which is definitely worth a try! The collection of fashionable lip varnishes represents rich colors of the autumn palette with a light, barely noticeable sheen.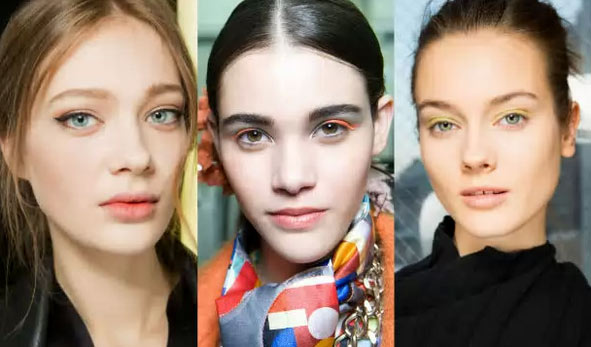 A passionate girl
The women who are not afraid to be bright and trendy choose the passionate orange color. To prevent the lipstick from losing its radiant color indicated on the tube under the influence of the natural pigment of the lips, one can rely on the secrets of make-up artists. Blend the corrector base on your lips and only then apply your lipstick.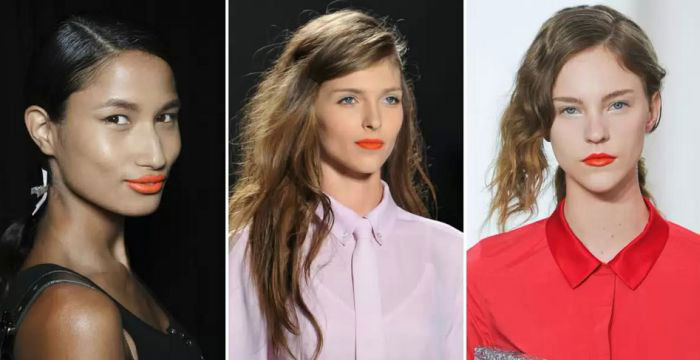 Burgundy blues
Burgundy lipstick is a perfect solution for home and office parties. It is suitable for any skin type as an accentuating element of the entire image. Please take into consideration that it is better not to use bright powder together with the burgundy color. Pay more attention to the flawless skin tone. To do this, use the light texture of a BB or CC-cream. The resulting effect will surprise you!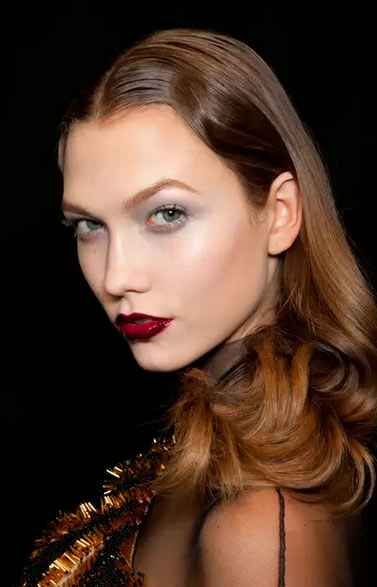 Back in the 60s
Do you remember the disturbing Twiggy images? They are relevant again today! Vividly thick eyelashes with the effect of "wide-open eyes" were shining on the Gucci and Prada fashion catwalks. How can one recreate a brilliant retro image? Use point movements to draw arrows with the help of the black eyeliner on the lash line. By doing so, you will get a nice thin contour, framing your eyes. Then use mascara with a maximum capacity to paint your eyelashes in 3 layers. Next, use tweezers to connect cilia in small bundles. Once you do this, you are on the crest of a fashion wave!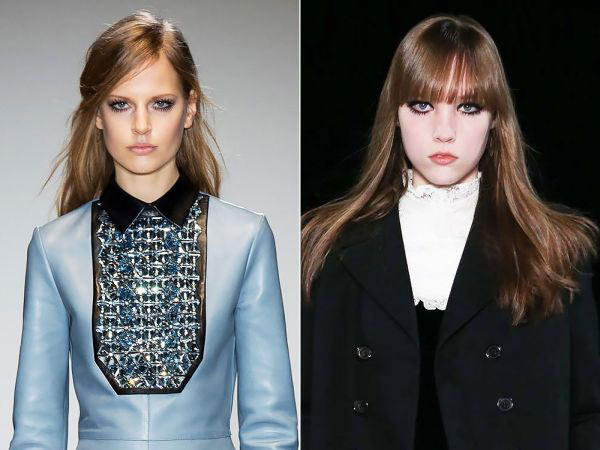 A sensual coquette
To create this glamorous image you will need the fuchsia lipstick. It will not only draw attention to your precious person, but will also accentuate your temperament. Apply lipstick, and do not forget to use a lip pencil of a similar tone. Evaluate your efforts. Unfortunately, fuchsia is not suitable for all beauties. But if you are attracted to the color, this cosmetic misunderstanding can be circumvented. To get a soft saturated hue, mix lipstick and gloss in the proportions of two to one (or more) on the back of your hand, and then apply the resulting tone on the lips. If you have done everything correctly, the image will be a success! Your lips will excite men's imagination with a seductive glow.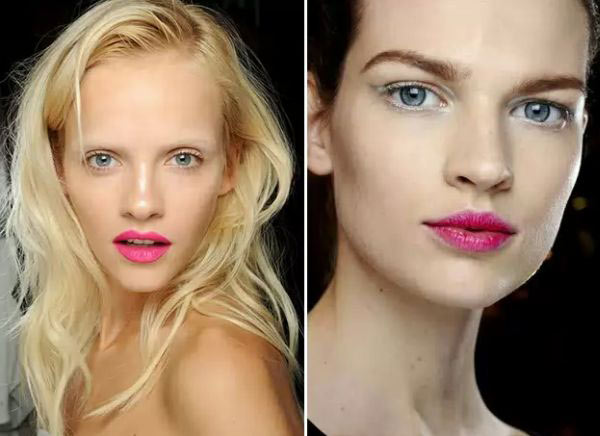 A wood nymph
Delicate pastels and muted tones are not so noticeable in the makeup as bright accents, but they look so pathetic and organic that they cannot be neglected. Therefore the make-up brushes of such fashion brands as Derek Lam, Hugo Boss, Rodarte, Donna Karan and Diane von Furstenberg have been used, decorating the models' moving eyelid with "faded" colors. After some careful shading, the result proved to be beyond praise. The girls' innocent looks gave rise to the associations with wood nymphs. Sensual and beautiful!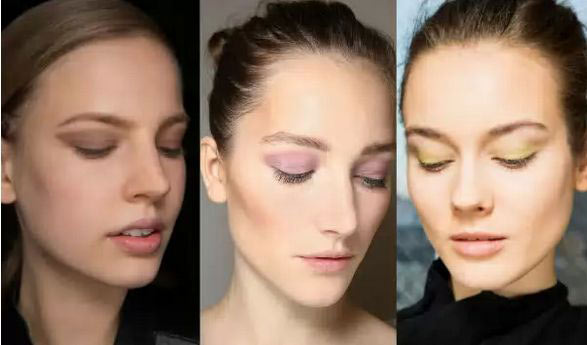 A priestess of love
The images of oriental beauties and Japanese geisha are the most frequent in today's sexual fantasies of men. Perhaps that is why fashion maestros could not have failed to recreate them on a fashion catwalk. As a rule, deep hues of shadows in three versions of the same brightness are applied to the moving and immobile eyelid, along the lower lash line. The result is beautiful and effective. The main thing is to give the leading role to this trend. It is recommended to use lip gloss or even ignore lip makeup.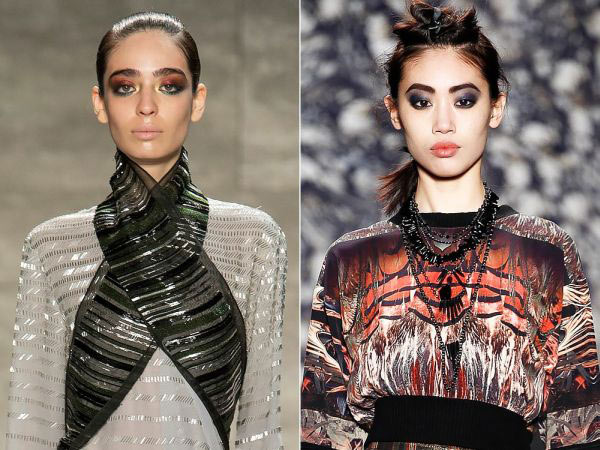 A playful she-cat
Makeup Cat Eyes is a sensual accent of this fall. The arrows, flirtatiously curved upwards, contribute to the sexuality and royal magnetism of the representatives of the fair sex. An important condition is not to forget to use shades in the corners of eyes. Now you are perfect!