Walt Thompson, a filmmaker, fell back on his profession to help him pop the question to his 4-year-long girlfriend Nealey Dozier.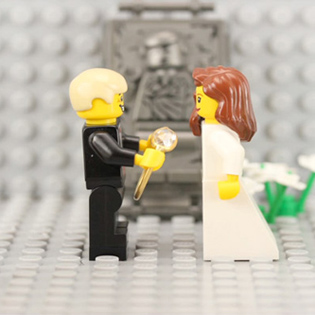 Evidently not relying on words, he took over 2,500 photos of two characters he created from a Lego set and produced a stop-motion video of a man and woman meeting – falling in love – getting married. The clip ended with words "Will you marry me?" coming up on the screen.
Having copied the filmed
proposal
on a DVD he went over to Dozier and asked her to play the disk. At the crucial moment he knelt in front of his beloved and presented her with the
Lego
bride-and-groom pair – complete with the ring!
This seems to be a nice way to overwhelm the girlfriend – at least, Thompson and Dozier are to be married in spring!