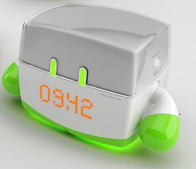 As for me, there is nothing like my mobile phone as an alarm clock. And it has been so for many years. Lots of people use their mobile phones not to oversleep. You can easily change melodies and put it somewhere far from bed to be sure to wake up and not just to turn it off and go on sleeping. It's practical, but there is another, better way to wake up, claims the "Hasbro" Company – their new Room Tech Clock.
What Is Hasbro's Room Tech Clock
A new device created by Hasbro consists of two wirelessly linked parts – the clock itself and the shroom-shaped Room Tech Lamp. When one turns off the alarm, two things happen. Firstly, the alarm clock starts to stomp its fists on the table, play the radio or the tunes from a MP3 player connected to it. Secondly, the will turn on the illumination.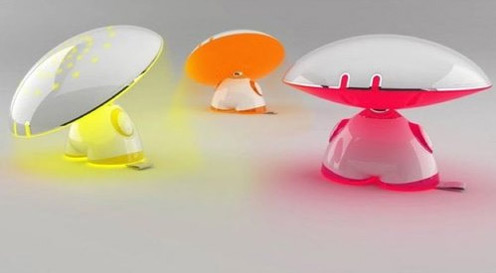 The Room Tech Lamp – Just Touch
It's also very difficult to turn on the light in the morning, when you are so sleepy. Just touch its head and the light will go on. You can also select any of the different light colors simply by touching it. The lamp has a speaker built in linked to your MP3 Player.
When and How to Purchase the Room Tech Duo
Unfortunately, the Room Tech Duo will be available only since September 2008 and will retail for about $80. But anyway I find it a very nice gift idea for women and girls. It's so cute and so unusual.