Are you still deciding what to buy for Christmas? The famous gift sets from Estee Lauder make perfects gift for women with good taste. We present to your attention gift sets which come in elegant and stylish bags: travel packs and evening clutches.
A set of holiday makeup, which comes in a travel pack. This elegant white case holds the most exquisite makeup products:
Eyeshadows palette Pure Color, which features 15 different eyeshadows
Blush palette Signature and Bronze Goddess in 3 colors
Four lipsticks Pure Color, which come in the following colors: Candy, Rose Tea, Fig, and Tiger Eye
The three eyeliners Artist Eye Pencil come in SoftSmudge Black, SoftSmudge Brown, and Slate Writer
Mascara Projectionist (in Black color)
Mascara base Lash Primer Plus
Gentle Eye Makeup Remover
A set of makeup brushes
Mirror
Ivory makeup bag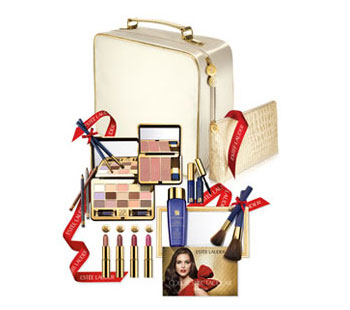 Makeup gift set in a red travel pack. This set contains the same products as the white gift set does, except it is missing the mirror, makeup bag, and eye makeup remover.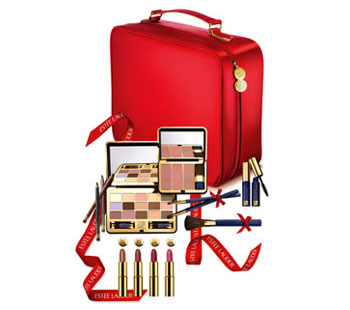 Holiday makeup gift set in an evening clutch. This sleek stylish golden clutch comes with a luxurious set of holiday makeup:
Eyeshadows palette Pure Color, which features 9 eyeshadows
Shimmering powder Signature in Rose Pearl color
Powder brush
Lipstick Pure Color in Boise de Rose color
Nail Polish Pure Color in Ballerina Pink shade
Long-lasting lengthening mascara Double Wear (Black color)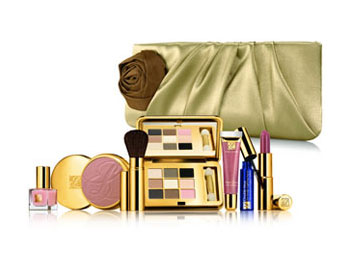 Makeup gift set in an evening clutch. This gray-steel clutch holds same elegant and luxurious makeup products:
Shimmering powder Signature in Gold Pearl color
Powder brush
Two lipsticks Pure Color (Sugar Honey and Beige colors)
Lip-gloss Pure Color Crystal in Honey Claze color
Eyeliner Artist Eye Pencil in SoftSmudge Black shade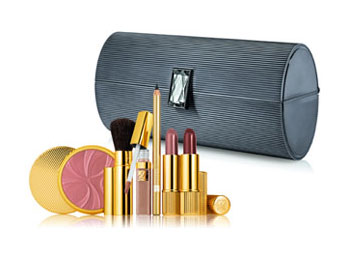 Another gift set, which is very similar to the one above, except the clutch comes in peach-orange color, and contains the same amazing products, with a minor difference – the Sugar Honey lipstick in replaced with Berry Truffle one.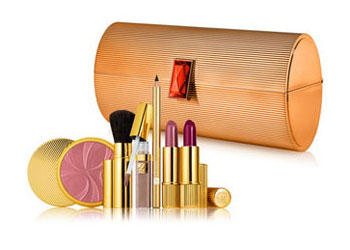 Source of the images: harrods.com.