Marc Jacobs isn't the one to sit back and rest on his laurels. Famous for his ability to juggle three labels, Jacobs is cherishing additional projects in makeup, but meanwhile he remains true to his fragrance line and has just come up with a new scent! And his Dot is a worthy successor to the popular Daisy and Lola. It is so very springtime coming in a bottle with a jolly ladybug-and-butterfly design that certainly captures one's fancy and exudes freshness.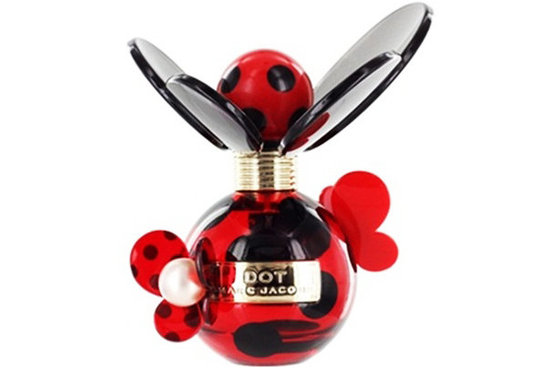 As for the scent itself, Dot has certain resemblance to the previous two by Jacobs, but it is a shade into the tropical. Red berries, honeysuckle and dragon fruit come on top; heart notes are jasmine, orange blossom and coconut water tempered by driftwood, vanilla and musk.
A fragrance to be expected, Dot is scheduled for release in July in the U.S. and in August worldwide, sold in 30, 50, and 100 ml Eau de Parfum options. The prices are anywhere between $48 and $89. Dot-related body and bath products are coming too, body lotion with a tag of $45, and a $40-worth shower gel.