In November, Dior Fashion House released an unusual product, the fragrance called J'Adore L'Absolu, in a unique bottle and in very limited quantities – 300 items worldwide.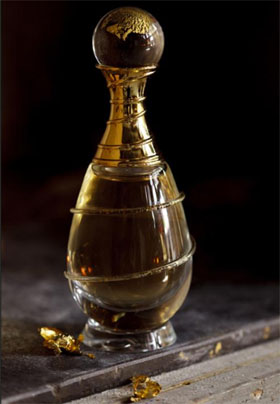 J'Adore L'Absolu luxury edition appeared at the start of the New Year season. The bottle is designed by French artist Jean Michel Othoniel. The fragrance came in 300 pieces in Murano glass bottles with handmade elements. The production was run by Italian masters. The handmade bottle is decorated with a glass spiral containing 24-karat gold. The cap is also decorated with golden petals. The new fragrance is based on specially selected compositions: flowers and perfume notes of rare varieties of rose, tuberose, and jasmine.
Each bottle of the new fragrance costs $3,500. But if the demand exceeds the amount of the offered items, the fragrance will be sold according to the rules of the auction, and then the price may increase.
J'Adore by Dior fragrance is the favorite one for many women. It was first released in 1999, and has been produced many times since then. What remains unchanged is the femininity and sensuality of the fragrance desired by women around the world. Today, J'Adore collection includes: J'Adore EDT, J'Adore EDP, J'Adore L'Eau, J'Adore L'Or Essence de Parfum, J'Adore L'Absolue EDP Absolue, plus perfumed products for the body.