While we are waiting for a chance to get a whiff at J'adore, Dior's signature fragrance, the French luxury goods company adds to the impatience unmercifully by exposing us to its new ad featuring Hollywood diva Charlize Theron.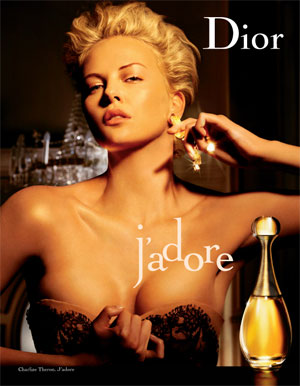 Therion is shown to turn up at the Château de Versailles for participation at a fabulous fashion show alongside Marlene Dietrich, Marilyn Monroe, Grace Kelly, and other iconic models priming themselves up for the show of the century.
The movie star looks resplendent in a golden dress made to resemble the flacon of J'adore, and her inspired walk along the catwalk is worth seeing in its own right.
Source of the image: Popcrunch.