Guerlain house is celebrating its 180th anniversary. This is an excellent opportunity to recall some of the brand's bestsellers. Guerlain has released a special collection of 18 best selling fragrances – expensive and rare.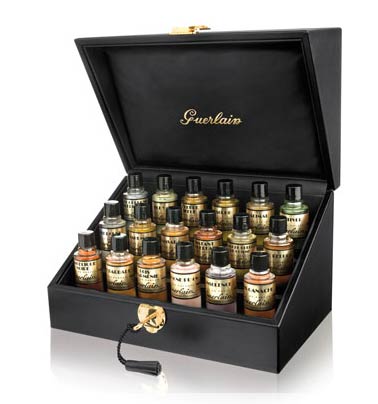 The 18 fragrances come in identical bottles and are placed together in an elegant coffret '180 Year Collectors Case'. The collection costs $3,750. But, the brand's 180th anniversary happens only once in a lifetime! Which fragrances were chosen for this collection? Which fragrances were recognized as the most successful in the history of Guerlain?
1853 Eau de Cologne Imperiale,
1889 Jicky,
1912 L'Heure Bleue,
1919 Mitsouko,
1925 Shalimar,
1959 Vetiver,
1965 Habit Rouge,
1979 Nahema,
1989 Samsara,
2003 L'Instant de Guerlain,
2004 L'Instant de Guerlain pour Homme,
2005 Rose Barbare,
2005 Angelique Noire,
2005 Cuir Belluga,
2006 Bois d'Arenie,
2006 Insolence,
2007 Iris Ganache,
2008 Cruel Gardenia.
18 perfumes capture the entire history of Guerlain: from Eau de Cologne Imperiale, which was created for the Empress Eugenie in 1853, to the most recent fragrance from the Guerlain house – Cruel Gardenia, which was created in 2008.
Indeed, this collection will mostly be purchased by collectors. The brand issued 60 coffrets for US alone. But there are many Guerlain fans around the world, so the brand promises to release more affordable anniversary items over the coming year.
Source of the image: Makeup4all