Stylish, fashionable, comfortable, practical – those are the qualities of a perfect pair of shoes. Are there similar variants in the new collections? Certainly! Let us not put off the introduction to the world shoe trends, and get acquainted with the latest fall-winter 2014-2015 fashion. When buying footwear, pay attention to the following: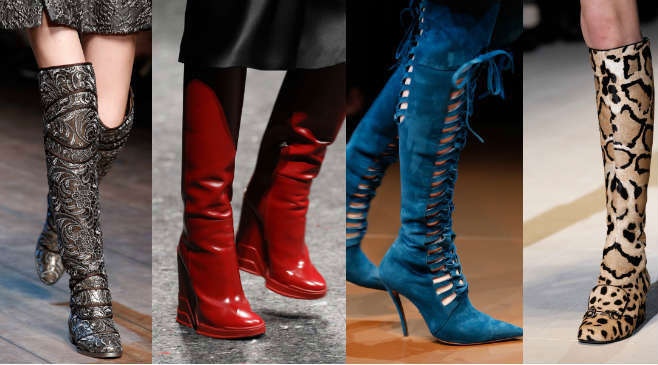 1. High boots
Jackboots or tight boots – no difference: both options are relevant. The main thing is them being at least knee-high. The most popular material this season is suede, however, black, gray and patent leather is also at the peak of fashion. For inspiration, we recommend looking at the collections from Balenciaga, Dolce & Gabbana, Saint Laurent, Betsy Johnson, etc.
2. Wedge and platform
Such footwear is comfortable, practical and allows you to stay up to the mark in all situations. Recent shows by fashion houses interpret wedges and platforms in their own way. For example, shoes from Prada and Diane von Furstenberg are made ​​ in explicitly men's style, Celine demonstrates exaggerated platforms, DKNY boldly mixes wedge heels and sports shoes, and Blugirl combines platform with a heel.
3. Massive heel
Stable, wide, chunky – this is what the most fashionable heel of the coming season looks like. Flaring, decorated with reptilian skin, rivets, all kinds of colors and designs… Any woman can choose what she prefers. You will find more examples of massive heels in Tory Burch, Salvatore Ferragamo, Michael Kors, Rag and Bone collections.
4. Stiletto heels
The familiar and beloved by many stiletto heel will be more popular than ever in the coming season. Designers did not deviate from the classical canons and introduced familiar shoe and boot models with a thin stiletto heel. You can see what came out of it at the latest fashion shows by Alexander Wang, Louis Vuitton, Lanvin, Balenciaga. And while stiletto heels are impractical in winter colds, you will be able to show yourself in all your glory on fine fall days.
5. Heelless shoes
The desire to be dressed fashionably and comfortably is also typical of the upcoming cold season. That is why fashion designers presented all kinds of heelless shoes. Ballet flats, running shoes, oxfords, monk shoes, Derby shoes… A special feature: most heelless models have a narrowed shoe cap. You can have a look at fashionable footwear by Alexander Mcqueen, Chanel, Giorgio Armani, Christian Dior, and others.
6. Cut out boots and shoes
Cutouts on the top, back, or sides of the shoes, as well as an open toe can bring spice and chic into "serious" shoe models. Such innovations were introduced by Burberry Prorsum, Derek Lam, Donna Karan, David Koma.
Those who prefer not to pursue fashion, but be aware of the trends, are recommended to consider shoe decorations, which will be at the peak of popularity in the upcoming "cold" season:
straps and buckles;
precious stones;
beads;
elements of fur;
shiny inserts;
sequins;
strings;
ribbons;
bows;
feathers;
mirror particles;
unusual prints.
As for the materials of the fall-winter 2014-2015 shoes, designers recommend to choose them according to your own preferences. Everything will be trendy: fur, suede, textile, leather (both natural and "reptile"), lacquer, rubber, etc.
A good pair of shoes is never out of place. The upcoming season, like no other, generously allows expressing your individuality. Therefore, we recommend you should not put off buying new fashionable footwear, because cold weather is not far off.