Fendi has just set up a new store in Las Vegas, the retail palace Crystals in MGM CityCenter. To make this event even more remarkable, two exclusive bags were unveiled that made a no mean attraction.
The exclusive Trevi Fountain Peekaboo bag comes in 20 items only, each carrying a numbered gold plate, to be had for the price of $4,550.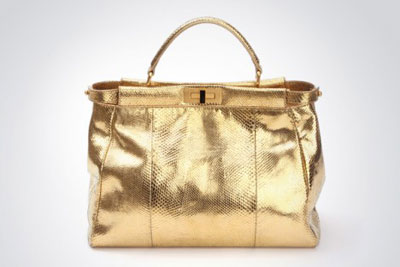 But this minor beauty is overshadowed by the magnificent Fendi Peekaboo bag turned out in a 24 carat gold python skin coating to strike both the eye and the imagination.
This super bag looks totally worth its price of $36,500.
Source of the image: Luxuo.com