Bright colors go for a bold statement, no, not just that,- an immediate hit in the eye. For bold statement would be an understatement of what Jeffrey Campbell intended when he designed his Creep Up Flashing Platforms. The shoes are orange creepers topped upon a thick platform (4.75″, 5.5″ at the heel) whose coloring makes rainbow look dull by comparison. They are so candy that you can't quite shake off the idea of trying to give them a good lick!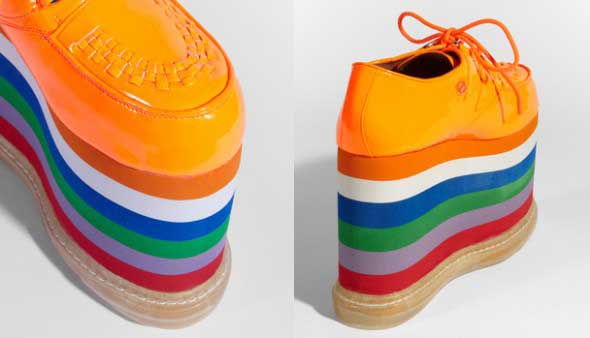 Anyhow, the new The Jeffrey Campbell Creep Up Flashing Platforms are bigger and brighter than you can imagine, and you have to be bold to take on the fashion challenge. The shoes can easily scare off many with their bigger-than-life colors and platforms that are a bit too high and maybe a menace to the spinal cord.
Moreover, these shoes are strongly reminiscent of childhood days, considering they also have light-up soles. When you don't feel like flashing around, there's a button that turns the flashing off.
Jeffrey Campbell's new flashing super-platform shoes for those who are not averse to drawing attention to themselves can be acquired at FredFlare at $168, sizes 6 to 10 are available. Shine on brighter than the sun throughout the summer!