Needle and thread can soon fall into oblivion. 3D-printers are already used by industrial designers, and now the new technology has been tried by the designers of clothes, footwear and accessories.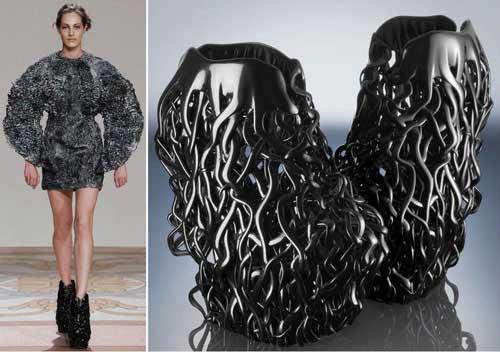 One example was shown at the last Paris Couture Week. Designer Iris van Herpen teamed up with architect Rem D. Koolhaas to create unusual footwear models. New botilions looked like tree roots, as if growing out of the owner's legs.
Dita Von Teese was recently photographed in the world's first 3D-printed dress from designers Michael Schmidt and Francis Bitonti. It was created specifically for the queen of burlesque. Here's a video about the 3D novelty's creation:
The legendary British milliner Stephen Jones not long ago announced that he was working on a 3D-printed hat.
Three-dimensional printing, by the way, becomes more affordable every year. If a few years ago, a 3D-printer was worth several thousand dollars, now there are models a little over $ 1,200.