Some things go out of fashion, while others return. That's what happened with this dozen of items. Not so long ago, they were about to be forgotten, but today they are back in trend. Enjoy viewing!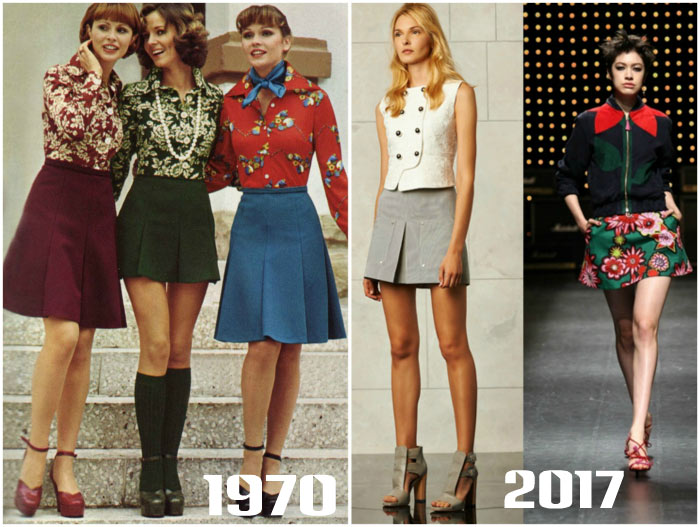 1. High-waist jeans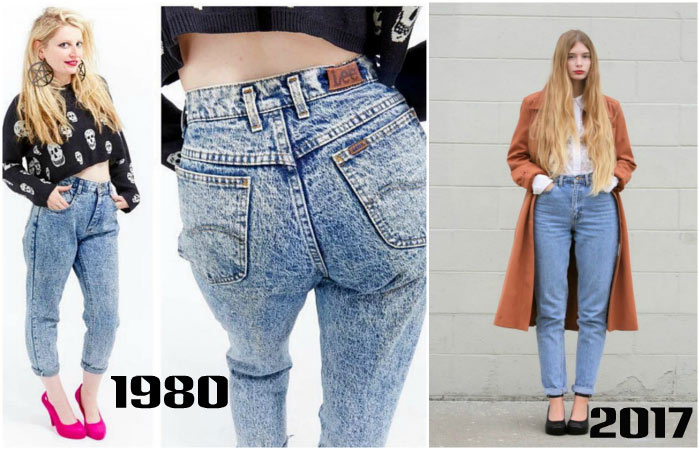 For a person of the 80s and 90s, jeans were a very popular clothes item. If you happen to run into a pair of high-waist blue jeans sorting out old clothes on the mezzanine, be sure to include them into your wardrobe, because such jeans are undeniably in trend today.
2. Trapeze dress
In late 60s, conciseness, flowing lines and loose cut became fashionable. At that time, magazines were abundant with pictures of girls in shirt-type trapeze dresses, which have not lost their actuality until now. After almost 60 years, they have returned onto the fashion arena. So, if you your mom or grandmother still keeps a similar dress in her wardrobe, do not rush to throw it away, maybe it will become an exclusive part of your style this spring.
3. Denim shorts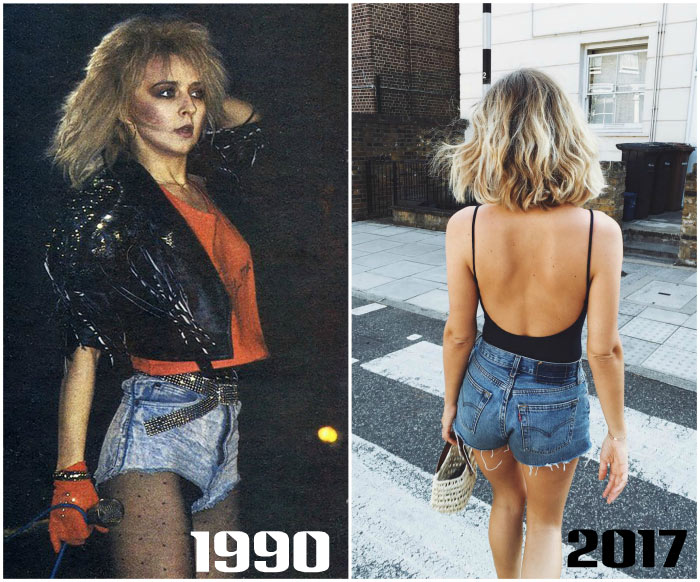 At the end of the 80s, denim shorts appeared on the fashion scene. However, not all girls dared to wear them. In those years, only celebrities and the rebellious youth wore high-waist mini shorts. Today, these shorts are at the peak of popularity, and no wonder, because they perfectly emphasize the waist and elongate your legs
4. Denim jacket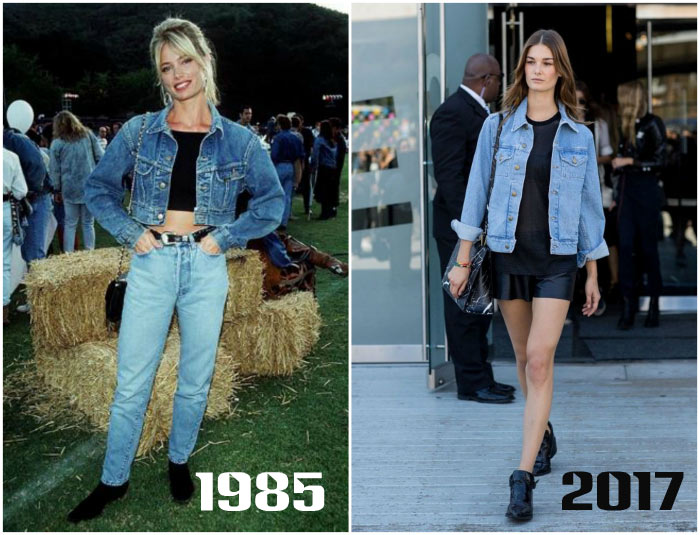 In 1985, everyone had an item from denim, including a denim jacket. Jackets of that time did not have any special features: crisp blue or dark-blue denim, loose fit, and metal buttons. But now, despite a huge range of denim clothes, 80th-style jackets are considered the most relevant and fashionable.
5. Open-back sweater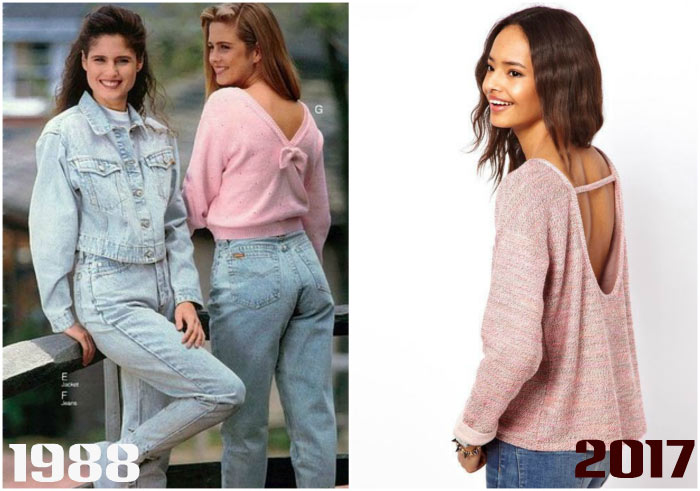 Like in the late '80s, knitted and crocheted sweaters with an open back are in trend again. Of course, since then, the cuts have become more seductive, but if you find such an item in your mother's closet, you can feel free to wear it today.
6. Peasant sundress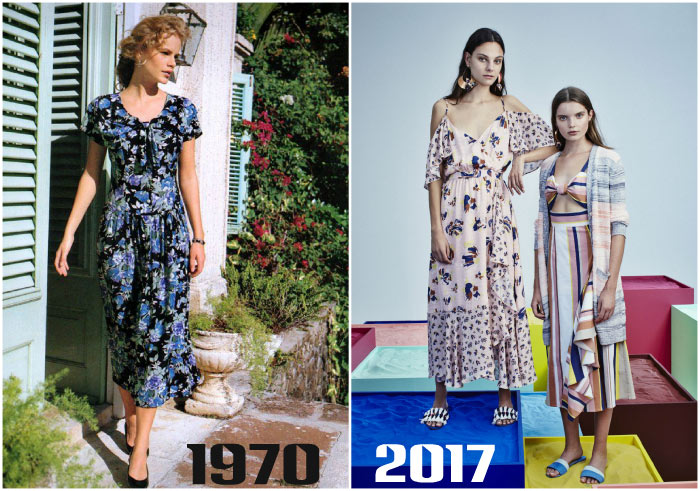 In 1970, peasant motifs came into fashion, and all ladies started dreaming of light blouses, sundresses and dresses with floral prints and lightweight ruffles. Actually, these sundresses have not lost their relevance today. The collections by famous designers include many long rustic-style dresses for every taste.
7. Choker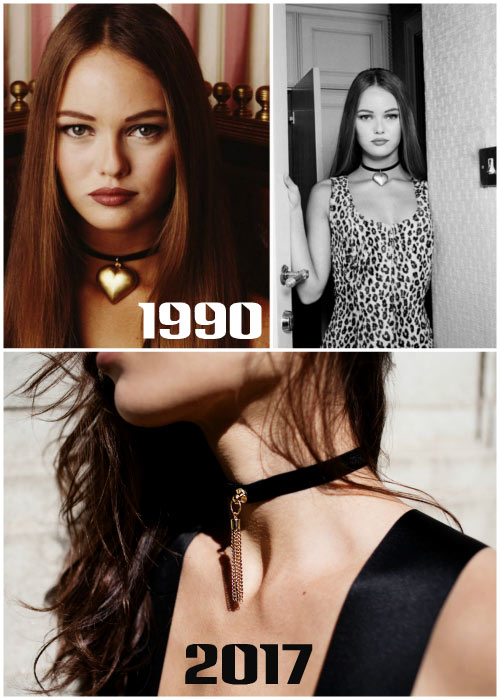 A choker is a short necklace worn by women of different eras, but in the 90th, it ceased to be just a decoration and became a real trend. In 2017, choker came back into fashion, and its appearance has not changed much. Like in the 1990th, accessories made of wire, ribbon or leather, complemented with plastic beads, precious stones, and studs are in trend.
8. Leggings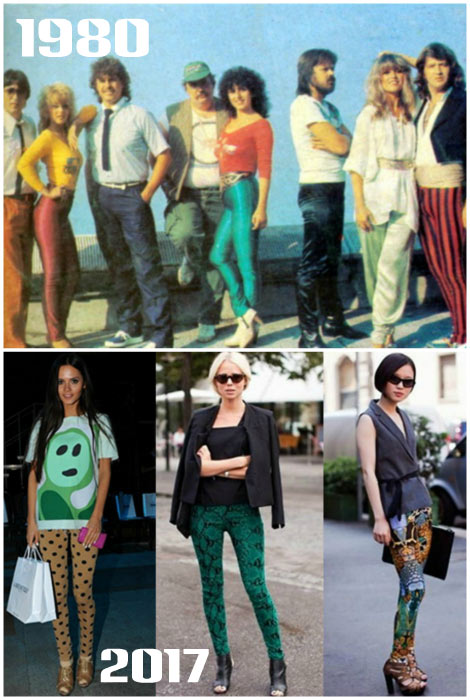 Tight bright leggings have become a real symbol of the youth culture of the 80s. As we know, fashion is cyclical, and flashy leggings of acid colors, intricate patterns and metallic shine are in trend again. You can wear these pants with short skirts, dresses, shorts, tunics, T-shirts and oversized sweaters.
9. Loafers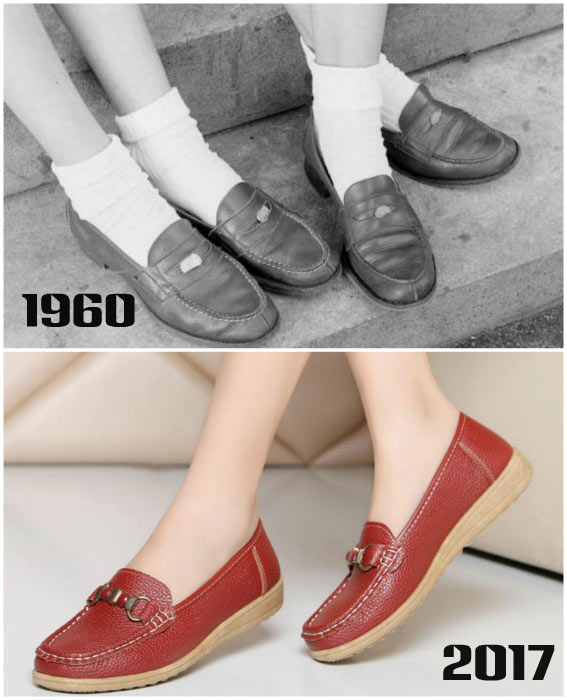 Comfortable loafers from the 60s are back in fashion. While they used to be considered school shoes, now you can wear them anywhere. By the way, in almost 60 years, loafers remained virtually unchanged, but there have appeared plenty of new colors and materials.
10. Jumpsuit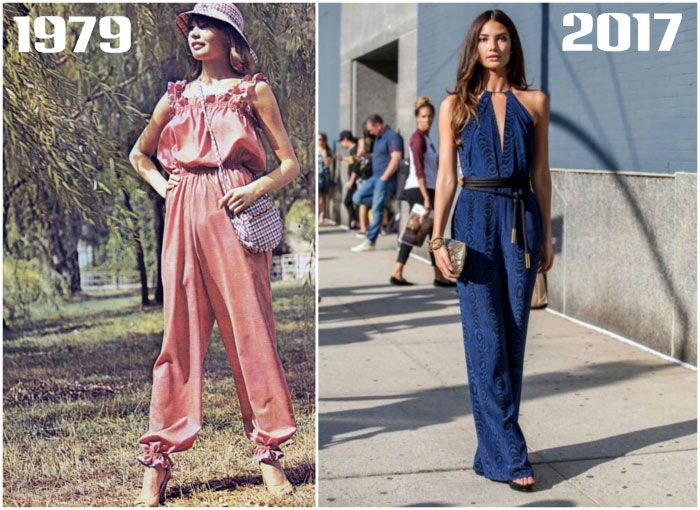 Back in 1979, women jumpsuits came into fashion. It is worth noting that, back then, not every woman, would dare to wear such a thing. Now, all kinds of jumpsuits are again in trend, and a huge number of models allow you to select a style appropriate to any event.
11. Knitted tunic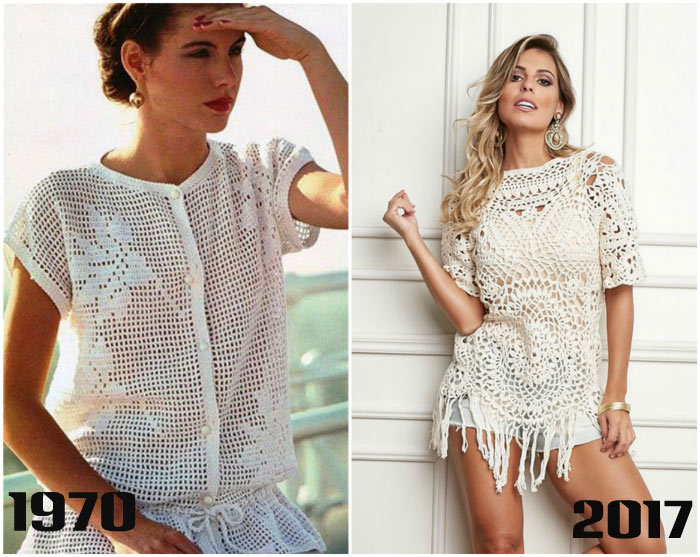 Light crocheted tunics that came into fashion in the 70s, have not lost their relevance until now. By the way, they are often handmade.
12. Dr. Martens shoes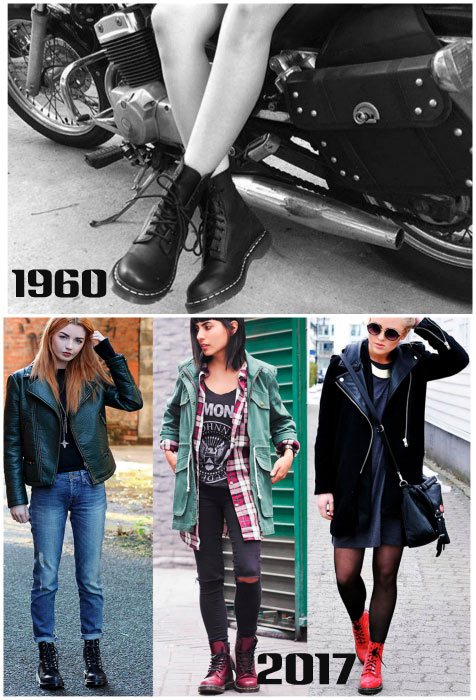 Coarse leather shoes, which appeared on sale in the 50-ies and quickly gained worldwide fame, have not lost their relevance today. Fashion bloggers and celebrities wear the brand shoes almost any time of the year, combining them with pants, leather jackets, dresses and romantic skirts.
13. Mini skirt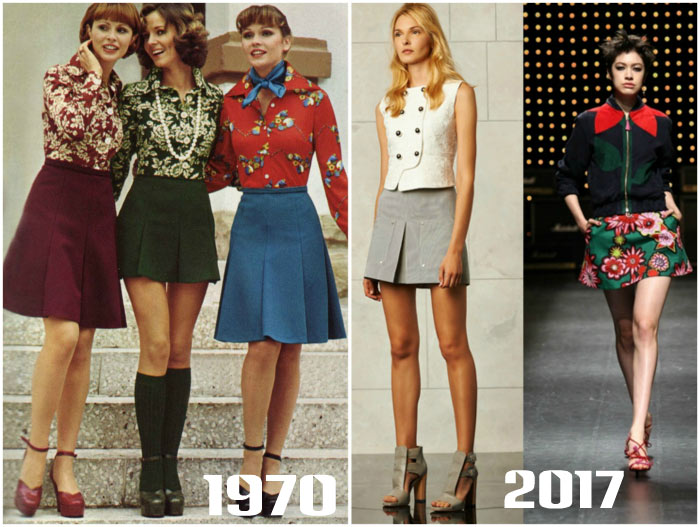 Today you will hardly surprise anyone, if you wear a mini skirt, but wearing such a thing in the 1970s was a challenge to society. If you find your mother's or grandmother's mini-skirt in the wardrobe, feel free to get hold of it.