Anti-aging creams have never been as popular as they are today. The massive spike in their popularity comes with the breakthrough of science and technology that allows manufacturers to use powerful ingredients and formulate products that truly work. Be careful now, this does not mean all anti-aging creams and treatments are equal. Good image of some products is tarnished by a wide array of items that do nothing. In turn, consumers find it difficult to find ideal anti-aging cream for their eye contours. If you want to minimize the stress and end the quest for the perfect cream, you came to the right place. Here's why Solvaderm's product is the real deal!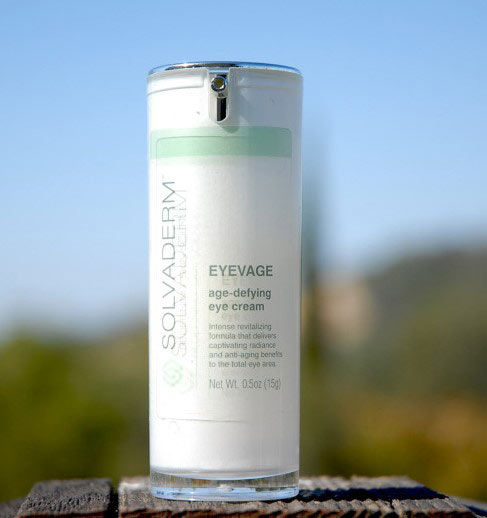 Why is Eyevage used?
Aging is inevitable and brings all sorts of changes in your body. Your skin is not an exception, it's a well-known fact. As you age, your skin gradually loses its hydration and moisture thus becoming dryer and rougher to the touch. Due to lack of collagen and breakdown of elastin fiber, the skin around your eyes loses its elasticity and forms visible signs of aging such as crow's feet, wrinkles, and fine lines. Since the area around your eyes doesn't contain sebaceous glands, it ages faster than other facial areas. This explains why the very first signs of aging develop around your eyes even before you hit 30.
Some factors speed up the aging process e.g. sun exposure. This is where the eye rejuvenation treatment from Solvaderm steps in, it allows users to nourish their skin, minimize wrinkles and discolorations, and to slow down their formation under your eyes.
What is Eyevage?
Eyevage is an anti-aging eye rejuvenation treatment formulated by a team of leading dermatologists and scientists at Solvaderm. It is important to mention this is not some ordinary eye rejuvenation product, but a multi-action age-defying cream created specifically to address complicated problems of maturing skin.
The cream contains potent ingredients that penetrate deep into your skin to improve microcirculation in the under-eye area. Of course, this means your skin absorbs it fast and you don't have to put up with awkward oily residue.
Thanks to the firming complex, this rejuvenation treatment delivers anti-inflammatory and antioxidant ingredients for youthful and radiant skin. Besides making the area around eyes noticeably younger, the anti-aging cream also moisturizes this particular zone and provides silky smooth feeling.
Here is the basic rundown of some (out of many) benefits of this under-eye rejuvenation complex:
Hydration
Neutralizes free radicals and prevents oxidative stress and other changes that make your skin appear older
Skin tightening and firming effects
Reduces the appearance of multiple signs of aging including crow's feet, fine lines, and wrinkles
Improves brightness and luminosity, fades discolorations areas such as dark circles
When to start using Eyevage?
Even though this eye rejuvenation treatment is formulated to tackle problems of the aging skin, you don't have to wait until you're in the 40s or 50s to start using it. Younger women can also benefit from this cream because active ingredients will enhance skin health in under-eye area and slow down the formation of wrinkles.
In fact, the official website states the treatment is suitable for women of all ages from the 20s, 30s, 40s, to 50s and older. Another important advantage of the product is that you can use it regardless of the skin type.
Does Eyevage really work?
What makes this product one of the best anti-aging eye creams available on the market today is a powerful formula. What's more, Solvaderm provides a detailed list of ingredients and their roles on the official website. This is amazing because potential and current customers can use it to get informed about the product.
Rich formula is the driving force behind the efficacy of this cream. Phytonadione is one of the main ingredients in this product; it is a form of vitamin K and works to speed up healing and repair. A study from the Journal of Cosmetic Dermatology found that Phytonadione is one of a few ingredients which effectively reduce dark circles in the under-eye area. Also, Phytonadione improves the elasticity of the skin and makes it firmer. In turn, this leads to reduced appearances of fine lines and wrinkles.
Other ingredients that ensure the efficacy of this product are:
Arnica Montana extract – skin-calming, anti-inflammatory properties, speeds up skin renewal process
Oxidoreductases – reduce oxidative stress
Soybean and hydrolyzed rice bran proteins – enhances microcirculation in skin around eyes for brighter, refreshed, and more vibrant eye contour
Jojoba seed oil – promotes optimal skin health, provides a protective barrier for sealing in moisture
Squalane – provides intense hydration
Hyaluronic acid – ultra-light hydrating compound
Eriobotrya Japonica extract – softens skin and improves firmness
Directions for use
It's incredibly easy to use this cream. Make sure you incorporate it into daily skin care regimen (morning and bedtime routine). First, wash your face with a cleanser as you normally do. Pat dry your skin and apply a pea-sized amount of cream around each eye. That's it!
When can I expect results?
The magical solution that would eliminate fine lines and wrinkles doesn't exist and those manufacturers that claim their products can remove signs of aging within a few days are scamming you. But, it won't take ages as well. In fact, you'll notice significant changes in the under-eye area within a few weeks. Results vary from one person to another. It is important to adhere to the recommended instructions and use the product regularly.
Conclusion
Eye rejuvenation treatment from Solvaderm stands out as a truly effective product that is capable of minimizing the appearance of signs of aging. Unlike most products on the market, this cream features powerful ingredients that reduce fine lines, wrinkles, dark circles and make this delicate area soft and smooth to the touch. Results are visible within a few weeks with regular use, but make sure you incorporate the treatment into your daily skin care routine and use it religiously to look younger and more vibrant.
References:
http://www.webmd.com/beauty/cosmetic-procedures-aging-skin#1
https://www.ncbi.nlm.nih.gov/pubmed/17147559
Also, watch video on: "Solvaderm's EYEVAGE – Anti-Aging Eye Cream"
Author Bio: Ella James is an independent researcher and writer. She has contributed to many online websites related to general health and fitness. Her interests include reading and writing about day-to-day health, fitness, and skin care problems. Connect with her on Facebook and Twitter.