It doesn't seem that Sean Penn, 50, and Scarlett Johansson, 25, will make it far into 2011. Four months have been quite enough for Penn, as Us Weekly had from an insider. The two-time Academy Award winner is making to break away from Johansson because he is not in the mood for serious relationships after his divorce from actress Robin Wright almost a year ago.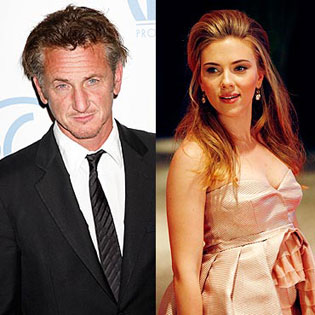 Meanwhile the Iron Man 2 star has other ideas about their relationship – up to "pursuing" Penn, as the source put it. On June 4, at Spike TV's Guys Choice Awards in L.A., she all but clung to his boyfriend's side, making sure she was in on all of his conversations. At one time she even squeezed herself between Penn and Robert De Niro, at which the latter made a face.
A source told that when a photographer wanted to take a pic of her and Penn together, she hastened to say "yes" before Penn could turn it down.
Will her attempts only serve to precipitate the split?
Source of the image: Rediff.