Heidi Klum and Seal's latest trip together to Aspen may well be their last, sources close to the couple reveal to PEOPLE. For the time being, Aspen seems to be "the final straw" in their relationship, as one source put it.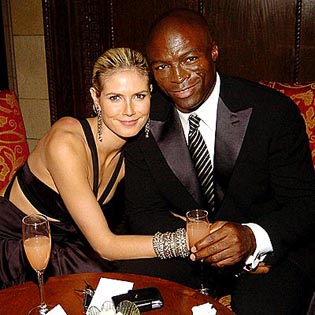 Klum, 38, and Seal, 48, took a trip to Aspen, Colorado, to have merry holidays, enjoy skiing and discover how much of the bond was left. They succeeded only in the last one. The expected fun hadn't materialized and neither had the bond.
The singer and his model wife had spent too much time apart working, and when they got together at Christmas they found that the magic had gone, another source said. There was too much fighting for everyone's comfort. So they decided to go to the Colorado resort to try and pick up the pieces, and it turned out to be a failure. "Instead of enjoying being back together as a family, it was difficult for them to get along," spilled the source.
It is rumored that their clashes came so thick and fast that Klum felt she had enough of squabbling and decided it would be better to withdraw than bring it to the point when their children were affected by constant arguing.
However hard they might have been at one another, the strain was barely obvious to those who were on a visit to Aspen at the same time. A photographer who saw them together told PEOPLE that they looked happy and content in each other's company, "kissing and cuddling" continuously. There was no outward sign of any problems as they were having quality time with kids and they also put in ski runs for just the two of them.
Another onlooker said they seemed to be on very good terms talking and being playful in a lovey-dovey fashion.
But their failure to turn up at the table they reserved at the Regal Watering Hole did make people suspect that everything was not too rosy for the couple.
Seal Giving Interview Regarding His Split from Heidi Klum