Since last year's theater hits The Proposal and The Blind Side Sandra Bullock, 46, seemed to have made a break from work, prolonged by her ex Jesse James' much-discussed adultery scandal. Now she's ready to prove that she is back with a vengeance!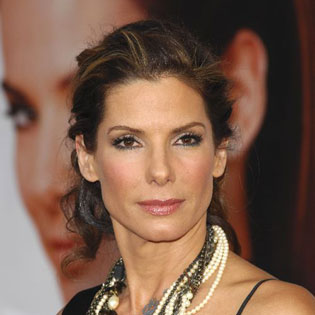 UsMagazine informs – with official corroboration from Warner Bros. – that Bullock, who scooped up a number of awards for playing Tuohy in The Blind Side, will appear in the new movie Gravity.
It is a space drama telling a story of a female astronaut whose space station has been destroyed by an asteroid, and she's got to make her way back to the Earth.
Angelina Jolie had been initially cast for the part, but she declined it for the sake of other projects. Bullock's co-star in the movie will be George Clooney, 49, who is now engaged in directing political drama Ides of March. They start on Gravity as soon as he is through with it, supposedly in spring 2011.
Meanwhile the Oscar winner can spend her time holidaying with her friend in Tujunga, California, where she was seen Saturday with her son Louis, 11, in tow. Bullock called her kid "a little Cajun cookie", and he certainly looked it!
Source of the image: Thebosh.