Reacting to LeAnn's recent photographs in which she appears suspiciously skinny, there emerged a string of judging and even slighting comments showing that some people are sure the famous singer is pining away. What LeAnn Rimes has to answer is that there is absolutely nothing wrong with her health.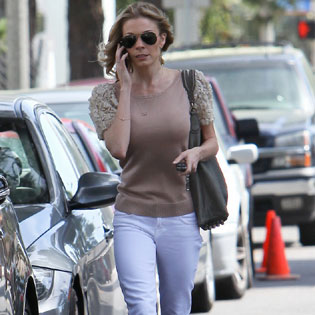 The 28-year-old country artist is coming on at full tilt to start a family with her fiancé Eddie Cibrian, 37, and she is taking good care of her health in spite of looking fragile. What people judge her by is just a photo, she replied to one of her followers, moreover, one taken as a "joke", where she purposefully wore skimpy jeans shorts and a top showing her shoulders. But that slim physique doesn't mean that LeAnn Rimes is starving herself to waste. "If people only saw how much I ate," she tweeted on Tuesday.
To prove it she cited an example of her Tuesday breakfast, a nourishing meal of wheat toast, Italian ham with fresh berries and poached eggs.
If that isn't good enough to show that she is in the pink, Rimes threw in a jocular remark that the only way to convince the most inconvincible may be posting her pictures with no clothes on – "so peeps can see how I look nowhere near what these stupid pics are trying to make me look like," she wrote, adding a big LOL to show that she was having a bit of healthy fun.
Source of the image: Instantpulp.