In a recent interview, Kristen Stewart quoted actress Joanne Woodward, who compared acting with sex: one has to be involved in it rather than talk about it. Indeed, the lady does not like to discuss her acting experience and share the details of her private life, but while shooting a film, she is ready to try many things for the sake of her role. In particular, she can be pictured naked.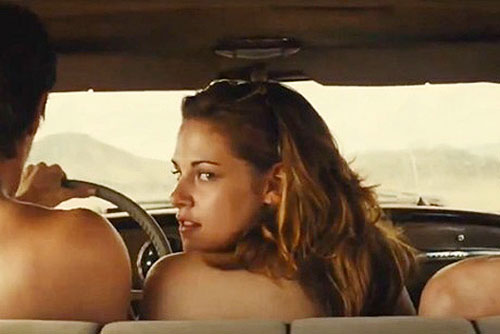 It is in this image that we will see 22-year-old Stewart in a new film "On the Road" based on the novel by Jack Kerouac. Kristen admitted that she expected to hear human gossiping, but nevertheless, she was proud of herself:
"I can't say it's not a little bit jarring, but it's jarring in the right way. I wanted it to be. I'm really proud of it."
It was easier for Kristen Stewart to get undressed than to swing a sword and get engaged in fights in another of her movies, Snow White and the Hunter. The actress admitted that she had a lot of bruises after the filming:
"I would hurt myself every single day. The thumbs was really bad, the worst one. But every other day it would be like," Ouch, it's this ankle or that ankle. Or my butt muscle – I would do something stupid like pull my ass muscle! "
The actress suffered to create the film that we can see on June 14, when Snow White and the Hunter will be released. Still, we will have to wait till August to contemplate half-naked Kristen in the movie "On the Road".
The motion picture "On the Road" with Kristen Stewart, Garrett Hedlund, Viggo Mortensen and Kirsten Dunst tells about the journey of young beatniks across the American prairies. Youth, drugs, jazz rhythms, and love – we are looking forward to this adaptation of the novel by Kerouac.