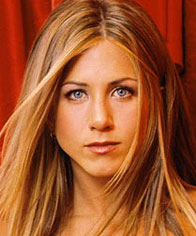 Former Friends star Jennifer Aniston, who divorced from Brad Pitt a while ago, is currently dating singer John Mayer. She finds the early courting period difficult. Jen finds it difficult finding the special someone even if you are not a star and do not have to carry the burden of fame. Aniston says that dating is tough, primarily because she and her partner are no longer kids. She also noted that she likes dates in general, but only when she is already a couple with that person. Interesting enough, Jen admitted that when she decides to get into relationship then she enjoys surprising her boyfriends once in a while by doing something romantic.
She recalled one of such surprises at the "TV Extra" show. Jen noted that it is good when one is surprised. Once she brought her boyfriend to a hotel room on his birthday, bought a massage table and gave him massage there.
Unlike Aniston, her He's Just Not That Into You costar Drew Barrymore said that she is currently single and enjoys the search process with the traditional invitations for dates.
Photo of Jennifer Aniston: topnews.in.