Hugh Jackman is not only a star onscreen, but is a man with a kind heart off-screen as well. A lot many reports have delivered the news that Hugh and his wife Deborah-Lee Furness are planning to multiply their family tree by adopting a new child to their family. Hugh and Deborah are parents to their two adopted children 3-year old Ava and 8-year old Oscar now.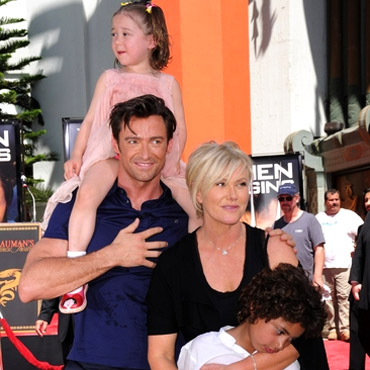 According to Hollyscoop, an informant being very closely related to the couple quoted, "Hugh is a big believer in adoption – not just personally, but from a world view of extending help to parentless children. They are adopting another child now, and plan to welcome a fourth into their family down the road. It has become their mission." They are seriously thinking about adopting a multi-racial child with arms wide open.
We know that Hugh and Deborah would make really great parents, whereas Hugh was quoted saying, "Mixed-race babies have such a hard time being adopted that Deb and I checked off that box specifically when we were filling out our forms.
Our lawyer brought the form back to us and said, 'This is not the time to be politically correct. Are you sure this is what you want?' We were definite about it. Adoption is about taking a baby into your home and your heart. It's the best thing we've ever done"
Way to go Hugh, you are definitely going to be a great dad and a lucky soul will be dropped under your wings for all your love and care.
Source of the image: broadwayworld.com.