What does it take to make a celebrity? Talent is what comes to mind first, then, probably, appearance, charm, the way he or she moves… Have you thought of height? Not in the first place, or maybe not at all – we are accustomed to seeing all kinds in a crowd, tall ones, short ones, so mostly we think of height as something that is another of every person's unique features.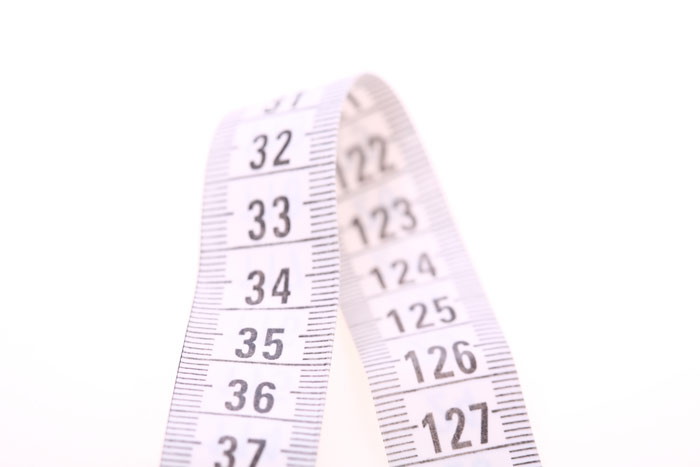 Yet there are boundaries for what we consider an individual feature and what looks closer to being definitely out of norm, and some celebs must be grateful that their talent doesn't involve being akin a tower… So their fairly small height isn't a source of constant worries.
You may not notice they are a bit different when you see them on the screen, but then somebody comes up to them and you are surprised to see that they are instantly overborne by a person who is not so tall after all… Entertainment industry knows a lot of tricks how to show a star so as not to draw undue attention to their drawbacks such as height much smaller than average.
We all know how comfortable we feel in the company of people who are about our own height but things chance once somebody very tall comes around; you may feel dwarfed although this person is not a giant. Celebs must feel it even worse, or not? Well, here are some of them who can boast about many great things but not their height.
5'2" – Paul Simon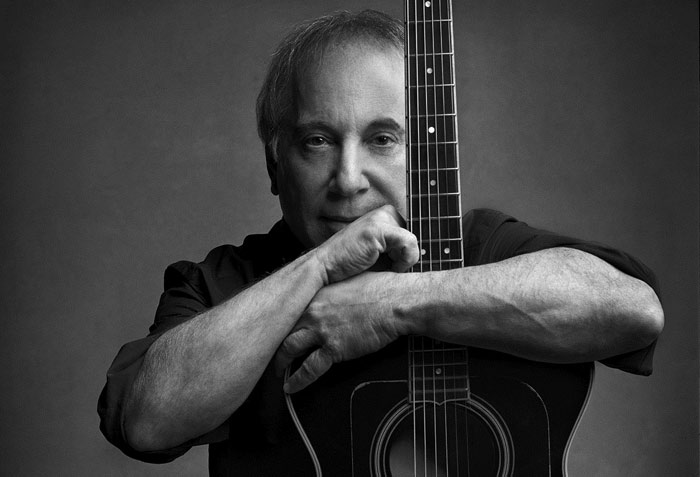 It was some time ago when Paul Simon achieved the status of a star, but he is still able to keep up his reputation of a great composer. He became a household name as half of the duet Simon & Garfunkel and has been turning out great albums ever since. Still, his height causes caustic remarks now and then, as in the case of his old-time partner Art Garfunkel who was recorded stating that Simon must be having a Napoleonic complex. Following that remark the scheduled reunion tour was canceled. Of course that was nothing more than an individual opinion, not sufficiently borne out at that, and Simon doesn't have to prove that he can succeed on his own without Art Garfunkel's singing abilities. The lasting respect of his colleagues for his decades-long career, love of his wife, artist Eddie Brickell, and admiration of the army of fans is quite enough to outweigh any scathing remarks from caustic people.
5'2" – Hayden Panettiere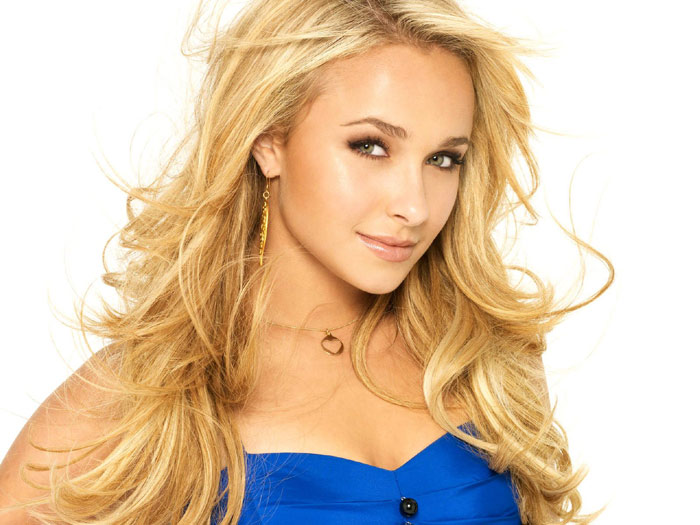 A very busy actress, Hayden Panettiere can be encountered here, there and almost everywhere in the media: you can remember her in 12 episodes of season 5 on Ally McBeal, she was one of the main characters in Heroes; her voice is in great demand, as can be seen from her performances as Dot in A Bugs' Life by Pixar and Kairi in the Kingdom Hearts franchise, to name but a few of her good jobs. Soon she is to make an appearance in CMT's recently revived Nashville in one of the main roles, as Juliette Barnes. So, Panettiere has roles coming thick and fast, and it isn't quite compatible with her height that varies from 5' to 5'2"; her singing and acting talents reach much higher. She looks tiny alongside her accessory Wladimir Klitschko who stands an impressive 6'6", but she won't get lost for that!
5'0" – Kourtney Kardashian

It's a bit jocular that the oldest Kardashian member should be the shortest. As Kardashians go, you cannot call them tall, but even then Kourtney with her 5' height looks small compared to the rest. She is mainly one of the leaders in Keeping Up with the Kardashians and its various spin-offs, but she has a chain of children's clothes boutiques on the side of which she is a co-owner, so she doesn't rely on her TV appearances solely. Added to that her credits include a Bachelor's degree from the University of Arizona, and, when all is said and done, she may not lean on her being famous at all. Her other acquisitions from life are three children up to 6 years old and her not quite steady boyfriend Scott Disick who disappears to undergo rehab now and then.
5'0" – Jada Pinkett Smith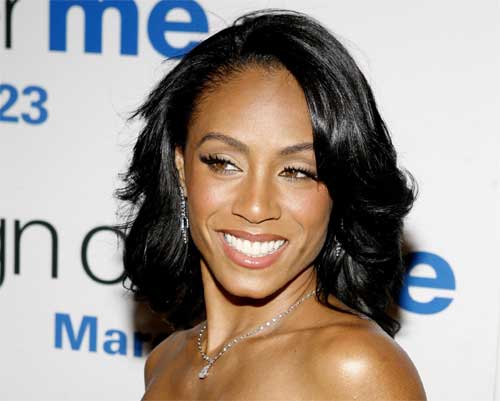 You remember Jada Pinkett Smith from The Nutty Professor where she starred with Eddie Murphy, but by the time she had already been a seasoned actress, playing lead and satellitic roles in various television shows since the second half of the 1980s. She had enough talent and experience to appear alongside famous comedians and get on with her acting career. Her recent involvement is as the gangster Fish Mooney on crime drama Gotham, a Batman-inspired television show. She may not appear on the family sitcom The Fresh Prince of Bel-Air with Will Smith, and her height may be responsible for that, nevertheless their family life is growing strong, and nobody minds the fact that Smith is about a foot taller – love is blind to such trifles as somebody's feet and inches.
5'0" – Danny DeVito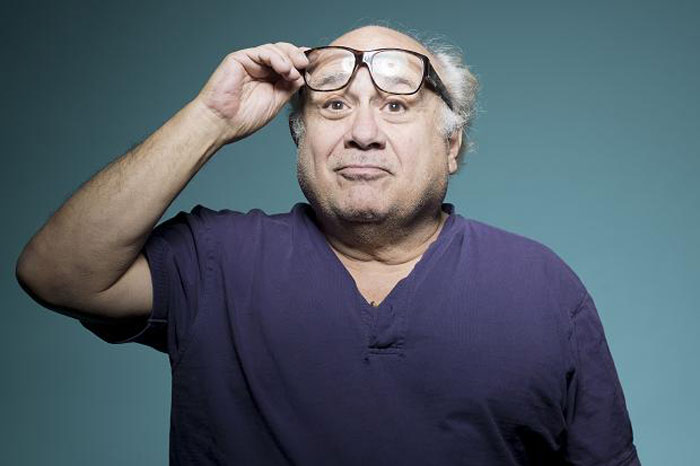 Danny DeVito may not be the handsomest of men being rather on the short-and-stubby side, but he more than makes up for it both in and out of movies. All the media, namely television, movies and the stage, are at his feet, and he is equally capable in three capacities – as actor, producer and director. He can be admired for his ability to issue great works while tirelessly trying to conquer fresh ground. Not that it was always a bed of roses for him – he started off doubting his talent because he failed to strike fire at the first attempt. Then, when he got into Taxi as Louie DePalma the taxi dispatcher, his tenure there for five years from 1978 on raised him to fame, and he never looked back since. A veritable star at work, at home he is fixed up equally well with three children and charming wife Rhea Perlman who acts alongside him time and time again.
5'0" – Paula Abdul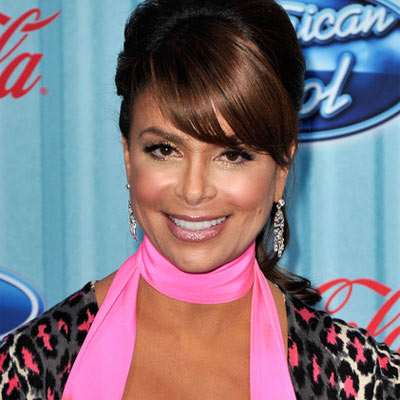 These days Paula Abdul is not as young as she used to be, but you may not think about it if you don't know it – what with her smooth skin and youthful spirits. She has covered a good deal of the entertainment market having achieved success as singer and songwriter as well as an outstanding highly sought-out choreographer who cooperated with many iconic personalities in music. She started off as the L.A. Lakers' cheerleader and entered California State University where she was given an audition that paved her road to fame. Now over 50, she is still as driven as ever, and she never gave a thought that her height might be hindering her. She believes in keeping up a positive attitude, always having Plan B to fall upon, and setting up rigid timelines so as not to fall behind in her appointed tasks.
5'0" – Kylie Minogue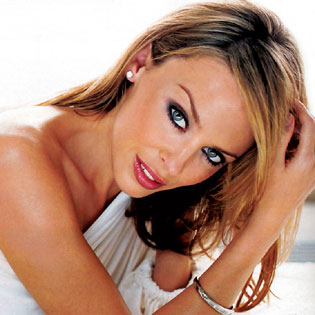 Kylie Minogue may have failed to conquer the whole world, but in Europe, the UK included, she is a superstar. She achieved recognition in Australia through the soap opera Neighbors where she played Charlene Robinson, a mechanic. Upon which she put herself whole-heartedly into music where her talent won her accolades from both critics and audiences. No way does it seem her petite frame is an obstruction in her career – it may rather be regarded as adding to her charm. Although she already crossed the 40th mark she is still enchantingly beautiful. Minogue is a marvelous example of how to present oneself so that one's height no longer counts as something that makes or breaks one. An additional proof of that is her engagement to Joshua Sasse, a British actor a foot above her and some 20 years younger – yes, the lady knows how to make the best of her life.
5'0" – Chandra Wilson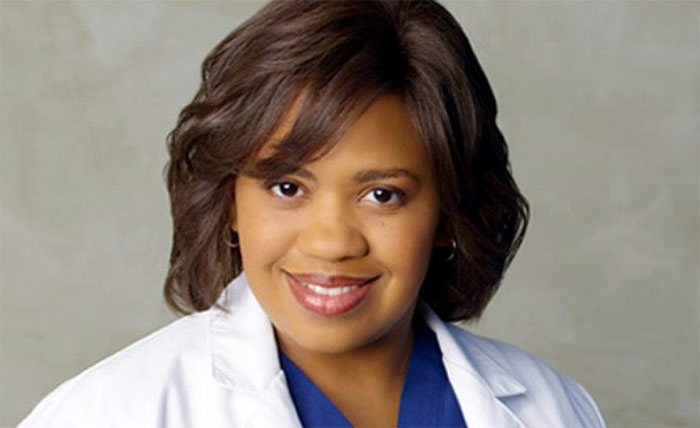 Probably not so huge a celebrity as some other people on this list, Chandra Wilson can boast of a long and noteworthy television career. Best remembered for her appearance in Philadelphia and in the role of Dr. Miranda Bailey on ABC's medical drama Grey's Anatomy, Wilson proved her worth in the latter part so that she is sure to be sorely missed when it is time for her to leave the series. Funny to think that at the start the authors of the show wanted a small white woman for the part; what must have landed them with Chandra Wilson who is neither white nor petite, although short enough, is still not clear, but there's no shade of doubt that the choice was a happy one. Her other hit appearances include participation on The Cosby Show and in 2009's Broadway's revival of the longest-running musical Chicago.
5'0" – AnnaSophia Robb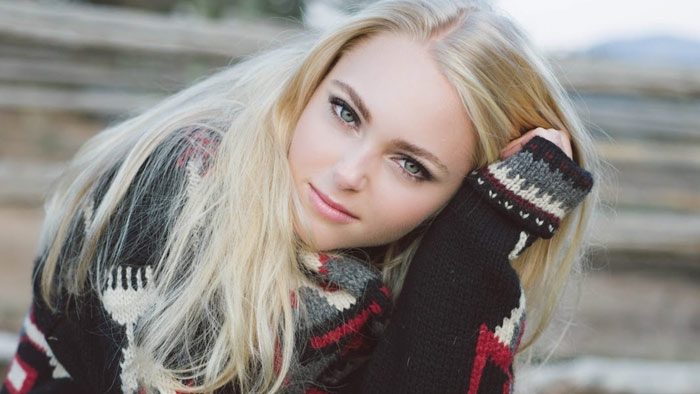 With AnnaSophia Robb the situation is rather different, for she is still 22 and the much-speculated idea is she may grow taller yet. Whether she will or won't, meanwhile she's in the 5'0" department and she has to make do with it. Somehow Robb doesn't seem to regard it as a setback to her career, nor it appears one! Violet Beauregarde in Charlie and the Chocolate Factory and the younger version of Sex and the City's Carrie Bradshaw in The Carrie Diaries are only two examples of her illustrious and burgeoning career. Recently she has been busy in the feature film Jack of the Red Hearts playing the main character and in the PBS's Mercy Street in the part of Alice Green. No more evidence is needed to be sure that this small frame contains an incomparable amount of talent and beauty.
4'11" – Adrienne Bailon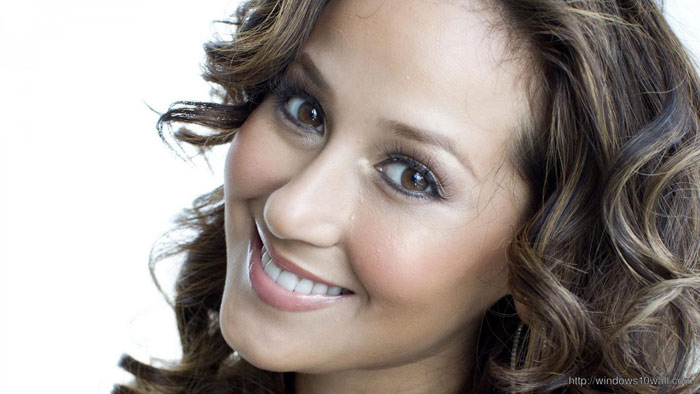 This New-York-born lady (the Lower Eastside of Manhattan) has made an impact on the public which belies her small height. Not even reaching 5 feet, Bailon manages to make herself noticed and impressed Ricky Martin so much that she was one of the four chosen to do background vocals for him at a concert. That proved the starting point of her career and the realization of the girl's wildest dreams. The stunning singer became one of three little women, that is, a member of the R&B group 3LW, in the following year and some time later landed a part on the Disney Channel movie Cheetah Girls. After that she went on television co-hosting the talk show The Real. Her liaison with Rob Kardashian disintegrating, she got herself another boyfriend, Israel Houghton, attaining luck in this sphere of life as well. She sets a fine example of a short lady who is not afraid of reaching up for the best and highest fruit in the tree – and getting it, her height notwithstanding.
4'11" – Lil' Kim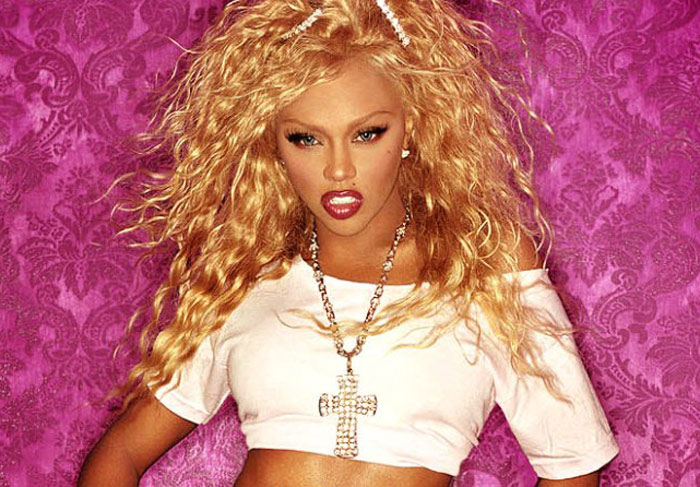 Rapper Kimberly Denise Jones, professionally known as Lil' Kim, is one of those who shaped rap into what we know now. An unstoppable breaker of conventionality, she is given to constant hard core swearing which became her salient feature, at the same time putting her firmly outside the parent-friendly territory. As a recognition of her talent Lil' Kim was honorably listed as number 45 on the list of VH1's "100 Greatest Women in Music" in 2012. Now the little rapper looks vastly different from the time back then when she sang Lady Marmalade with Christina Aguilera and Pink: her skin is darker, her nose somewhat thicker and her appearance seems more Caucasian. A long time has gone since she released her latest album and a longer time since she was instrumental in Junior M.A.F.I.A.'s success; it's high time the shortie treated us to some more of her hits.
4'11" – Kristin Chenoweth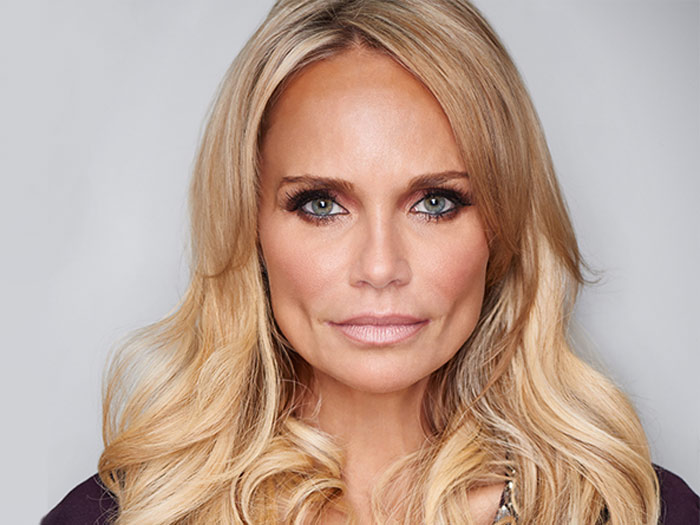 While Kristin Chenoweth's name ranks very high in musical theater, she hasn't made it as big on television to make her as universally popular as she undoubtedly deserves it. Apart from playing Annabeth Schoot in The West Wing and Olive Snook in ABC's Pushing Daisies she seems to be rather negligent towards the medium that could bring her talents to a wider public. True, she has multiple voicing credits in children's movies, but it doesn't help her to be instantly recognized on streets, where most people tower over her. Still, it makes no difference to how wonderfully she sings and how professionally she acts. It's impossible not to notice (and remember) her impressive performance on Broadway productions like Wicked in 2003 where she won wide notice for portraying the protagonist Glinda, and You're a Good Man, Charlie Brown in 1999 when she received a Tony Award for playing Sally Brown.
4'8" – Nicole "Snooki" Polizzi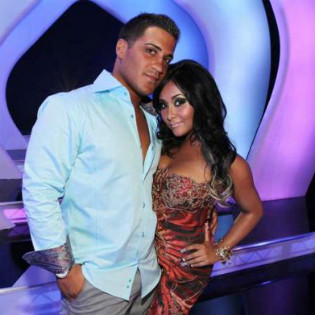 If you don't know who Nicole "Snooki" Polizzi is, you may think she is just another short girl who is nothing special – and you just can't be further out! With her 4'11" she is such a bright individual with a great taste in clothes that everyone turns to look at her when she comes into a room. Years ago she was all set on becoming a veterinary technician when an advert on Craiglist caught her eye and she decided to go for it. That's how she found herself at MTV on the set of a show centered on Italian-Americans. The reality show, Jersey Shore, became MTV's biggest hit and went for three years, changing Polizzi's life for good. During this period she met her boyfriend-fiancé-husband Jionni LaValle and became pregnant with their first child. By now she has under her belt several Jersey Shore spin-offs, appearances on various talk shows, an appearance in Dancing with the Stars, season 17, three novels with one New York Times best-seller – not mentioning her work as producer and a line of accessories and beauty products. Not bad for one who is 28 and under 5 feet!
4'5" – Peter Dinklage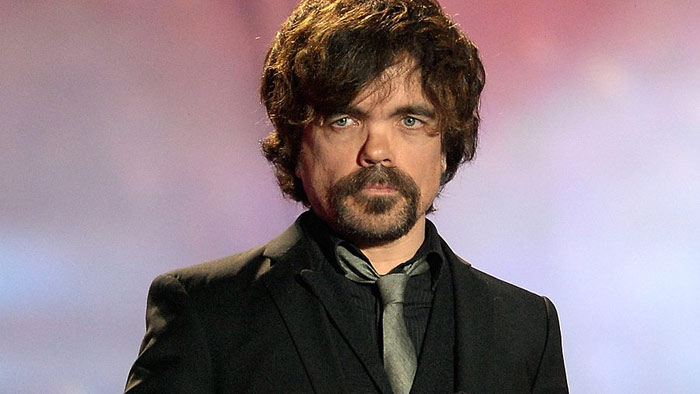 Even on this list of celebrities, Peter Dinklage stands out as one of a kind. Dwarf though he is – the result of having achondroplasia – the actor has enough personality and confidence for a tall man and more. He had quite an impressive theatrical career before his real breakthrough came in 2003 with The Station Agent. An unbroken string of other movie roles brought him to the part of Tyrion Lannister in HBO's Game of Thrones series, for which he won two Emmys and a Golden Globe Award in 2011. Probably one of the reasons for his success is that Dinklage never shirks from turning down a role he doesn't feel for (and, consequently, didn't end up in the company of other dwarf actors who are invariably saddled with parts of leprechauns and other mythological creatures). Also, he is prone to insist on equality knowing full well how people are sometimes apt to treat those different from them every day of their lives.
2'8" – Verne Troyer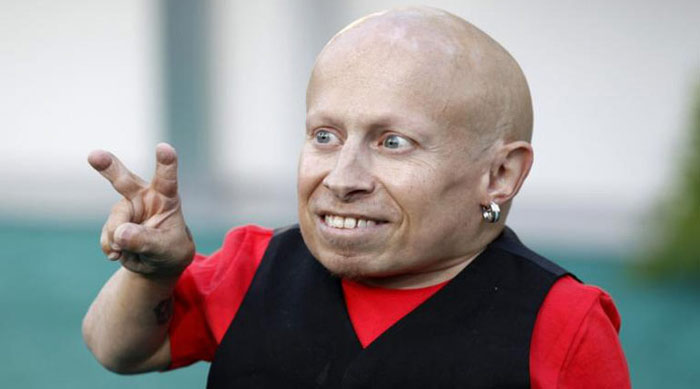 Here's another dwarf who refuses to let his stature get him down and can at times make use of it to show how special he is. The famous actor-comedian-stuntman has had cartilage–hair hypoplasia dwarfism since childhood and is one of the shortest men on the planet. At high school he used to make people jump by hiding in a locker, then leaping out at a well-chosen moment – and he is still like that. The only thing he takes hard is the word "midget", but he surely has good reasons for that. Troyer signed up to perform stunts for the baby protagonist in Baby's Day Out in 1994 and that put him on the map. He is well remembered as Mini-Me in the Austin Powers movie franchise. The smallest actor can do pretty well anything in movies – including playing kids and even animals, he doesn't mind putting his extraordinary talents on display in any part he lands.