Last weekend Las Vegas could freely gape at the newly rearranged Heidi Montag who had ventured a stunning series of 10 plastic surgeries in a single day. Her second plastic improvement in 23 years included chin reduction, brow-lifts and (of course) breast enlargement.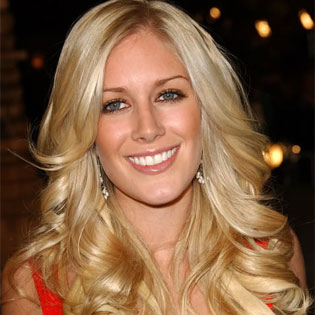 Now her breasts look very large, going on past E-size (or so it seems), and can stand no further surgery. Also Heidi had to give up jogging for fear of injuring her boobs.
While the reality celebrity was obviously happy with the results showing off her bikini-clad body, the Us Magazine got the opinions of several plastic experts who are more than doubtful about the outcome.
Dr. Lyle M. Back, New Jersey, predicts the development of chronic pains in the back and drooping of the breasts that follows adding that much implant weight too often. "Often, the entire balance of the spine can be thrown off, resulting in chronic neck strain, painful shoulders and even a stooping posture," he concludes.
Dr. Joel Beck, San Francisco, also cites troubles coming from oversized breasts. The implants may not only require subsequent breast lifts, but even removal, if they thin the tissues so as to become visible. Besides, he says, such breasts may make breastfeeding more difficult as the baby will be struggling to get the milk.
Dr. Mark Berman, president of the American Academy of Cosmetic Surgery, is more concerned about her nose. If Montag's nostrils have been "narrowed too much," he says, it may seriously impair her ability to breathe.
Dr. Larry Fan, a Harvard man and esthetic plastic surgery specialist, points out some possible psychological complications stemming from undergoing so many procedures at once. "It's just not emotionally healthy to want to change so many things about your appearance at all once. I am most concerned about Heidi's emotional health and sense of body image," he remarks, mentioning Hollywood's stressful lifestyle.
Actually, back scooping may be the only surgery that won't bring about problems since the removal of fat from her waist isn't liable to interfere with her customary activities. But it looks like the Hills leading gal may start collecting aftermaths, and quite soon.
Source of the image: 2partsbossy.blogspot.com.