The marriage weather has drastically changed for the illustrious musical duo Beyonce and Jay Z. Love seems to be growing thinner as the two are torn asunder through disagreement over the subject of having children.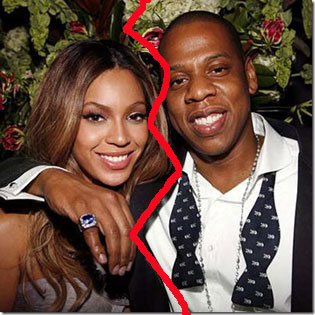 The Hollywood couple have decided on a "trial separation" to see how things will shape with them further, with Beyonce residing in New York and Jay Z in Los Angeles.
When they happened to come together at a RocNation luncheon event a while ago, people noticed that they avoided eye contact and didn't look pleased to be in the same room with one another.
Media Take Out's account of the problem is that Jay Z thinks it's time they had children, while Beyonce is unwilling not wanting to hamper her career prospects.
Beyonce, at her age 30, can still afford several years' delay with having kids and put in some more effort into developing her career until she gets close to 40-45 and approaches the border age.
Now Jay Z, who is way ahead of Beyonce in age, being born in 1969, may feel it's the right time for him to enjoy fatherhood before he gets too old to appreciate children as he should. That's where the age difference tells – providing a pressure point they will find hard to get round. So, the separation is highly likely to end in a split.
For Jay Z career hasn't been an issue for some time, he made his wad and enjoys a reputation of an astute businessman and one of the richest hip hop performers. He is running a range of ventures, is in the restaurant business and has clothing lines to his credit. He is also a co-owner of a sports bar that is gaining sway, a place called New York City Sports Bar 40/40, an hour's drive for Southern Connecticut people on their way to N.Y.C.
Musicwise Jay Z is one of the great names at the Connecticut casino. MTV applauded his recent musical tribute to Michael Jackson that went down well with his fans.
Source of the image: Hotfamouscouples.