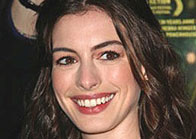 Anne Hathaway's ex-boyfriend, Raffaello Follieri, was sentenced to four and a half years in jail on the charges of scamming; yet, it does not necessarily mean that her life is over. Her personal life is very much alive as well. Life & Style magazine's sources report that Anne Hathaway has a new, non-criminal, romance now.
When the actress arrived in New Orleans for the premier of the movie "Rachel Getting Married" she seemed to enjoy the company of Adam Shulman. The magazine believes that Anne was talking about him when she was telling the reporters about her new love.
Shulman confessed that his friends introduced him to Anne. He came to New Orleans to accompany her on the premier. Some rumors say that Adam broke up with another girl to be with Anne.
Adam, who is currently 27, was born in New York. He mostly acts in TV series, while his filmography list is rather short. Who knows, maybe his affair with Anne Hathaway will be beneficial for his career.
Photos of Anne Hathaway and her hew boyfriend Adam Shulman: celebitchy.com.