Anna Wintour, Vogue US editor in chief, celebrated her 65th birthday on November 3rd. During her long career, the iron lady of the global gloss reached incredible heights, she turned the fashion world upside down and irrevocably submitted it to herself. Quite a lot is known about her, but we still tried to find the facts about which you may not yet know. So…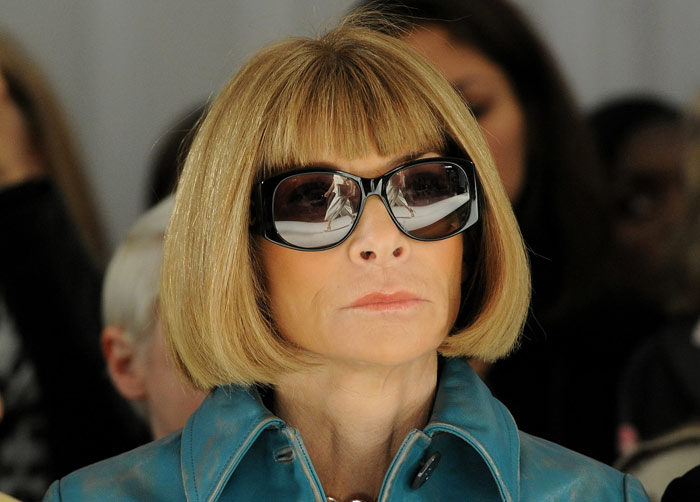 The first cover of American Vogue led by Wintour caused resonance not only in the fashion-world, but in society as well. The main photo depicted the Israeli model Michaela Bercu, wearing a luxurious top from the couture collection by Christian Lacroix and the plain Guess jeans. As it turned out, the skirt did not fit the model due to the fact that she had gained a little weight after her vacation. And as a result, Wintour suggested an image which was more like in real life.
The chief editor of Vogue has always had a lot of enemies. Animal welfare advocates are known for their special hatred for her; they accuse Wintour of excessive love for the clothing made of natural fur. One day, when Anna was leaving the Chanel show in Paris, PETA activists threw a cake in her face. She is known to have said "Wear more fur!" her face being under a layer of cream.
As the Duchess of Cambridge, Wintour is not one of those who are willing to part with her wardrobe. She can often be seen in the same outfit. The same can be said about her favorite jewelry – a massive necklace of colored stones. You probably know about the famous model of boat shoes by Manolo Blahnik, which Wintour has been faithful to for over 20 years. Rumor has it that Anna has another pair of darker shoes for tanned skin.
Journalism is a family affair for Wintour. Her father Charles was the editor of the London Evening publication in the 1950-1970-s. And in 1955, he even founded a theater award, which still exists today.
Anna Wintour has established rules for those who want to get on the cover of Vogue US. The first and unequivocal thing: if you want to appear on the pages of the magazine – lose extra weight. Thus, the TV host Oprah Winfrey was forced to lose as much as 9 kilos. If the chief editor suddenly decides that a celebrity is not in the Vogue style, even the most influential personalities should only put up with it. In 1999, Anna Wintour rejected the cover with Jennifer Lopez after viewing the test shoot. The verdict was "too vulgar!" And this is not the subject of appeal.
Wintour is incredibly punctual! She can often be seen in the first row in isolation, awaiting the start of the defile.
Editor in Chief of American Vogue must be the only person in the fashion world, in whose honor one of the city's attractions was named during her lifetime. The fact is that in 2013, she managed to collect more than $125 million for various charitable projects. After this, the head of the Costume Institute in New York, whose expensive balls are one of the most exciting annual events, decided to rename the building in her honor. It was Michelle Obama who announced this at a reception, adding that she was happy to call Anna her friend.
Wintour has only once been married – to a child psychologist David Shaffer, the father of her two children, daughter Katherine (known as Bee Shaffer) and son Charles. For more than 10 years, she has been in a relationship with Shelby Bryan, a big businessman from Texas.
Thanks to her strong character, Wintour is nicknamed as "Atomic lady."
Personal life of the Vogue US chief editor is a taboo for discussion in the press. However, Wintour is known to have a big family. She has two brothers- Patrick and James – and sister Nora. However, she lost one of the brothers in a car accident in early childhood.