British fashion designer John Galliano may get in Dior's black books for his unseemly behavior – if it ever gets proven against him. For the time being Dior put their chief designer on suspension.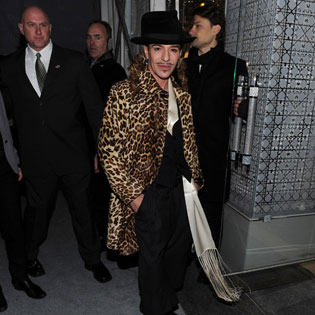 Galliano was arrested on Thursday in the Marais district of Paris. The Paris police was called in when the designer allegedly acted importunately towards a couple sitting on the terrace of a roadside cafe, made anti-Semitic remarks and then assaulted them.
After the police took him in he was found to be under the influence of alcohol. Now he is out with charges filed and pending. A police source shared that it is not known whether the designer and the offended couple were acquainted in the first place and what made him speak out to them.
According to the information AFP received from Galliano's lawyer Stephane Zerbib, an explanation from the designer will be forthcoming soon. Meanwhile, any accusations of anti-Semitic bias are strongly denied as being out of character.
Zerbib added that these misplaced accusations would meet with a legal counter-measures.
Source of the image: Fashionbombdaily.