We love to collect such non-standard tips and beauty secrets. Another piece of advice comes from the stylists of the stars. The theme of it is hair care.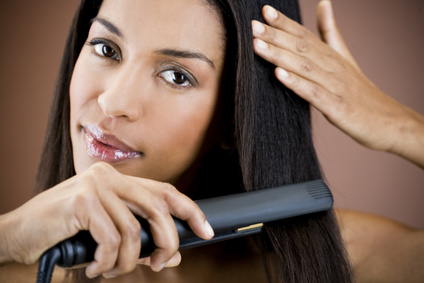 1. Lightening hair with lemon
Almost everyone knows the trick with the so-called lemon lightening. Its authorship is sometimes attributed to Claudia Schiffer, and she repeatedly spoke about it. But the stylist Kyle White from the beauty salon Oscar Blandi (New York), which is frequently visited by many media persons, makes a very valuable addition to this secret.
The most natural results, according to the stylist, will be observed if we combine lemon and orange juice. Before going out on a sunny day, apply the cocktail of freshly squeezed lemon and orange juice onto separate strands or on hair in general. White says that the blonde shade you will get will be warm and golden, and therefore more natural.
2. How to Get Rid of Greenish Hair
Chlorine and hard water can distort your light hair color (this is also true for redheads), giving them a greenish tint. Negin Zand, a colorist who works with Jennifer Aniston, Cate Blanchett and Meg Ryan, says that the red pigment of tomato juice will neutralize any cool shades, including ashy or greenish. That is quite interesting, for you at once remember the joke about the tomato juice. It turns out that any joke really has some truth in it, and pouring tomato juice on one's head is not always ridiculous. Sometimes it may be helpful.
3. Protection of head skin
There are products that contain too many chemicals that irritate the head skin. It is not just paint and various tint products, but some shampoos as well. Some of us have very sensitive skin of the head, and even simple disinfectant components of shampoo can bring problems, such as dryness, flaking, irritation, and so on. There is a very simple solution. It was suggested by Rita Hazan, the colorist from New York. Before you dye your hair (or use any aggressive components), add a packet of sweetener in the paint. The sweetener will help to neutralize acidity.
4. How to get rid of dandruff
Dandruff certainly requires the trichologist's attention. But you want your scalp not to itch during the period of treatment, and you want the flakes of dandruff stop falling from your head on the shoulders. Oscar Blandi, the stylist and the owner of the beauty salon Oscar Blandi (New York), is sure that Ibuprofen pills can help you. You just need to crush a few pills in your shampoo. This mixture removes the flakes of dandruff and dead skin from your hair and the scalp, just like apricot scrub cleanses the face. What you get is just a gentle scrub for the skin of your head.
5. A Toothbrush for Hair
The stylist from New York, Sarah Potempa, believes that a toothbrush is a great tool for hair. First, she suggests using it as a comb, when you need, for example, to correct some of the delicate hairs in the already finished hairdo. Secondly, a toothbrush can be of great help if you dye your hair at home. It is plastic, it does not react with hair dyes, and it is easier to dye the hair roots with a toothbrush. Moreover, be sure to always use a toothbrush when you need perfectly smooth surface of the hair, like in a horsetail hairdo. Drizzle the toothbrush with a hair spray, which provides strong fixation, and comb the unruly hair back. You will be surprised that a toothbrush makes this procedure much easier than when you use a large comb.
6. The volume at the roots
Eugene Toye, the stylist from the beauty salon Rita Hazan (New York) offers a very funny method of lifting the hair at its roots. You know that tissues become more rigid, if you use starch. The stylist says that the same will happen with the hair, if the wet roots are sprinkled with a little laundry starch, before you make a stylish hairdo.
7. Treatment of split ends
Master Ted Gibson from New York, who works with Anne Hathaway, agrees that protein is needed for the treatment of split ends and thinning hair. He offers gelatin treatment. Dissolve gelatin in hot water and massage your hair. Let it stay for 30 minutes, and then wash the hair with warm water.
8. Fighting very curly hair
The following tips are always popular among those whom nature has bestowed with voluminous and very curly hair, which does not allow making a hairdo easily. The hairdresser Joshua Barrett, who works with the actress Drew Barrymore, recommends using a sunscreen, whose shelf life is coming to an end or has recently expired. To straighten the hair, you need to apply a little cream on the palm and spread it over the hair. Another tip from the stylist is to use wet soap. A piece of wet soap can be used to trim the restless tresses, make them heavier, straighten them, and make the hair look matte. The creative director of the Nexxus company, which manufactures hair care products, Kevin Mancuso, whose clients include Scarlett Johansson and Demi Moore, advises to pay attention to the lip balm. It "works" like wax on the very curly hair, straightening and modelling the locks.
9. Dry Shampoo
Some of us might have already tested this method. The result is not always good, we should warn. Actually, this trick goes back to our childhood, when it was described in various old magazines. The hairdresser Mara Schiavetti, who works with the actress Tilda Swinton, tells about plain flour as an alternative to dry shampoo. One should use it the same way as dry shampoo, and then comb the remnants out with a ridge. If you fail to comb out all the flour, there will be a feeling of dandruff in your hair. But Tilda, whom the stylist works with, has blonde hair. So maybe this advice works for blondes. Mara Schiavetti recommends to remove the remnants of flour with a makeup brush. Perhaps, this is the main secret.
10. A brighter shade of red
Kyle White from the beauty salon Oscar Blandi (New York) recommends the use of cranberry juice as a means of getting a brighter shade of hair. Basically, it is a tip for obtaining reddish hues. It is necessary to spread the juice all over your hair and leave it for 5 minutes (or longer – for a more dramatic effect.) Then, you just need to wash your hair.