The medicines used in the dermatologist office to treat acne has all been very effective, usually consisting of a combination of creams, prescription oral medications, or even Accutane. However, over the past 5 years dermatologists have been using a new, FDA Approved treatment called blue light therapy to kill the bacteria that causes acne. By going after the root cause, dermatologists are better able to reduce and eliminate acne without prescribing harsh and sometimes dangerous medications. While this blue light treatment is extremely effective, its also very costly, normally ranging for $2000-$4000 for six weeks of treatments.
Technological Breakthrough
A new breakthrough in blue light therapy for the treatment of acne has launched this year, finally bringing down the cost of this amazing technology so that the average family can afford it. Trophy Skin, a designer and developer of home use medical devices, started selling the BlueMD home acne light therapy device in 2009. This device uses the same blue light technology found in the dermatologist office, and is sold directly to consumers for use at home.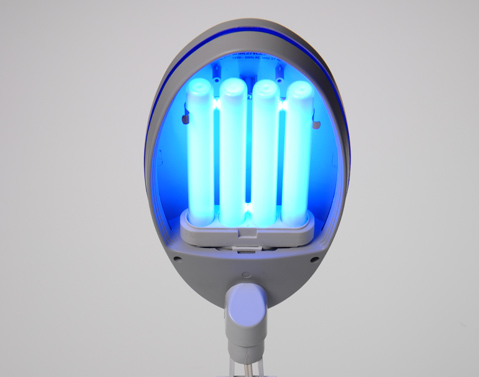 Quick and Easy to Use
The instructions couldn't be easier or more convenient. Simply wash your face, put on the included goggles, and lay down in bed (or on the couch) while the light does all the work. Most people will use the BlueMD for 15-20 minutes, 3 times per week, and will start to see results within a few weeks. The Trophy Skin website also features an Acne Assessment Test that will help you determine if you are a good candidate for the BlueMD, and how often you need to use it for your particular acne type.
Affordable for Everyone
The BlueMD is truly a revolution and technological breakthrough in acne treatment. Finally, the average family can harness the power of FDA approved technology, use it in the comfort of their own home, and get the results only celebrities could afford just a few years ago. Check out the BlueMD on the Trophy Skin website at www.trophyskin.com