What is it you do the first thing in the morning? If you prefer to wake up to an aroma of your first cup of tea (or coffee, for that matter), then this gadget is for you. From now on you will be waking up into a new day with a pleasant beep and the warming feeling that a cup of your favorite beverage is waiting for you to stretch your hand.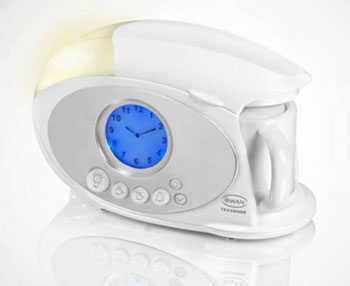 Teasmade – the first gadget that will take care of your mornings – can be obtained for £59.99 or about $88. Every evening you'll have to see about charging the teapot with whatever will pick you up better – two teabags, a mix of your own, or instant coffee – and make sure that Teasmade is filled up with cold water. Next morning it will spring to life several minutes before the alarm, get your drink ready and let you know as soon as it has arranged for your comfort.
Source of the image: Dvice.com.