Liverpool-based jeweler Stuart Hughes has come up with another luxury gadget to cater for the rich and the stylish – iPod Supreme Rose Gold Limited Edition, only 10 handsets of which are available at the price of £59,995, about 95,000 in US dollars.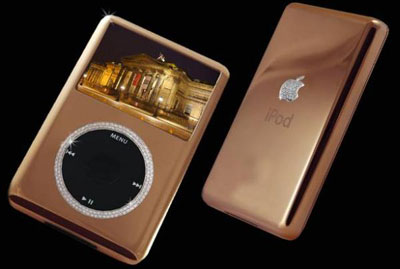 Created on the design of the Apple iPod Classic, it bears proudly the Apple logo laid out impressively from 53 VVS1 color-F diamonds.
iPod Supreme Rose Gold is made from 263 grams of 18ct solid rose gold. More VVS1 color-F diamonds of 3.4ct adorn the main navigation button whose body is made from platinum.
Source of the image: Elitechoice.org.