One of the most noteworthy of the many WWDC announcements in San Francisco was Apple's. They have presented us with a new iPhone called the 3GS. Outwardly it won't surprise us with an exceptional out-of-this-world design and it is not going to put the current phone off the market. The well-known 8GB iPhone 3G will still be around at the price of $100.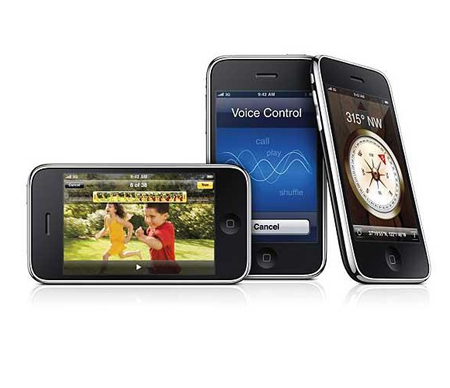 The newest one comes at $200 and 300, depending on whether you prefer a more modest 16GB model or a more spacious 32GB one, and certainly it offers a much faster performance due to a faster hardware.
The camera that goes with the new 3GS is something worth dwelling upon… It is a 3MP autofocus affair, and the autofocus is really good, allowing you to take proper close-up shots that won't come out in hardly recognizable blots… barcodes, for one, will scan nicely. You tap on the screen on the spot that you want to come out clear on the picture, and it gets into focus. There is a switch between the still and the video modes. If you opt for video – it will be somewhere around the VGA clips quality – you will be able to edit it and even send it off straightaway. The camera can improve on low-light shooting and features auto-macro and auto-white balance.
The new idea is a compass application which can orient streets for you automatically when you are using Google Maps.
The voice control (which the 3GS iPhone also features!) goes a bit beyond the customary speed dialing contacts. You will have control over your iTunes, rearranging your playlist by ordering your 3GS to play songs like the one you are listening to. The perfect ease of this still sounds quite fantastic, and the farther the devices are developing the less people in the streets will be surprised at someone chatting with their pocket gadget!
Nike+ running shoe dongle support and the iPod touch are thrown in for good measure.
June 19th is the date we are to expect this new wonder; meanwhile go to WWDC 2009 Keynote for looking it up on Live Blog.
Source of the image: telegraph.co.uk.