If you don't mind spending a while learning to read the time but definitely want your wrist watch to make you stand out, TokioFlash Japan's Kisai Broke will suit you just fine. It is easier to make out than the majority of Japan's too-often overintricate designs and it is undoubtedly attractive with its colorful mineral pieces.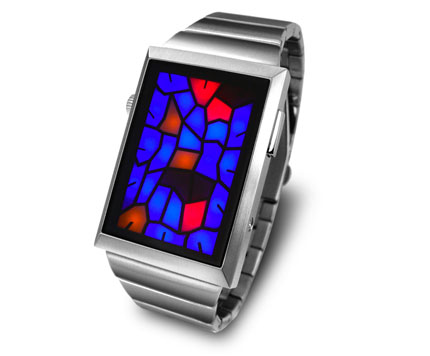 Yes, the Kisai Broke splits the time into three circles made up of mineral crystal lens. The outer circle shows the hours as on a common watch, only without figures. The second circle has you informed of five-minute intervals, broken in their turn into single minutes in the central circle. Black blocks show the time while the other colors provide the kaleidoscope effect only.
This timepiece is made from stainless steel and are fitted with a clasp activated by a button. The animated LED lights can be doused. Measuring 33 x 48 x 9 mm and weighing 164 grams, it is water resistant (able to stand 3 ATM) and designed for 130-200 mm wrist.
The first Kisai watch to be charged via the computer, it goes with a USB cable. The battery is rechargeable and replaceable.
Carrying 1 year warranty, the Kisai Broke will be yours for $168.15.
Source of the image: craziestgadgets.com.