Sony is doing fine on the MP3 market no matter how overstuffed it may be. Their new worthy attempt to win the eyes, ears and money of customers is the S Series Walkman Video MP3 player that has just made it into stores. It comes in two capacities, 8 GB and 16 GB.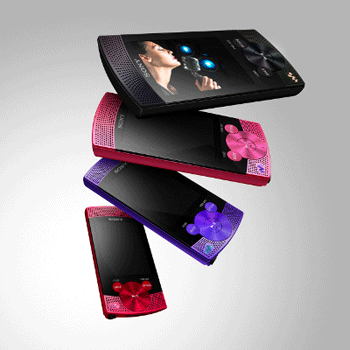 The eyes may gladden over its stylish design combined with super compactness (only 1 3/4 x 3 5/8 x 5/16 inches width-height-depth and 1.6 oz weight). The 16GB S Walkman is either red or black, but its more modest brother can be had in pink and violet as well (out in late September).
The money tribute to Sony comes to $129 for the 16GB model; the expected 8GB one can be pre-ordered for $109.
Now for the ears. Sony's patented Clear Audio technology is here providing for quality playback. Should you like to enjoy your music with a company or impress those around you with your musical taste and the new device, there's the built-in Digital Linear Phase Speaker System that will do it with the appropriate Sony quality.
The S Walkman features an FM tuner and a special feature that allows recording from FM enabling you to capture the tunes you fancied without undue fuss. Very considerate. Voice recording ability is there as well to come in useful with memos or just to toy with.
The new series can get iTunes music via the Content Transfer or by the simple drag-and-drop being compatible with iTunes 8.1.
Back to the pleasures of the eye, the player sports an ultra-responsive 2.0 inch LCD display that promises the impressive quality of 30 frames per second. Most video file types are supported, besides JPEG and MPEG-4 you can view AVC, Baseline Profle, and WMV(DRM).
Long battery life is another Sony forte, and the new S Series Walkman doesn't disappoint. According to Sony the headphones playback will be good for 42 hours of music and 6.5 of video. Public playback using the speakers will give you about 17 hours and 5 hours respectively.
Source of the image: popgadget.net.