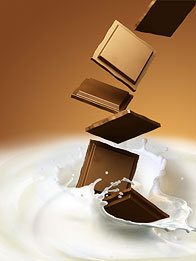 Not only is chocolate yummy, it also has a wide range of health benefits. For example, chocolate makes us feel good and helps to overcome stresses. Chocolate could be beneficial for pregnant women and have a positive effect on the embryonic development and personality of her future baby. Scientists think they might use chocolate to create new drugs for cancer treatment. Yet, we know more of positive effects chocolate has. One of the negative effects of this dainty is that it affects tooth enamel and causes caries. Perhaps, it won't be the problem soon because there is a new chocolate on the way. It is going to be as tasty but it won't harm our teeth!
The thing is that this tooth friendly chocolate will contain isomaltulose instead of sugar. Isomaltulose is a natural sugar with fructose and glucose. Isomaltulose is not vulnerable to bacteria, so it won't produce the acid that destroys tooth enamel. Also, milk proteins will replace milk powder on the ingredients list.
New chocolate, already labeled "Happy Tooth", will be produced in Belgium. This small country can boast its unique chocolate production technologies. Belgium chocolate is famous for its high cacao beans content and remarkable flavor.
Unfortunately, Belgian tooth friendly chocolate is still fattening. And chocolate lovers will still have to watch their diet. Yet, chocolate is less harmful for your waistline than foods high in animal fat.