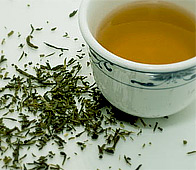 Contrary to conventional wisdom about the health benefits of green tea, this beverage may harm cancer patients, researchers at the University of Southern California warn. According to researchers, drinking green tea in combination with taking cancer drugs used to treat multiple myeloma (bone marrow cancer) and lymphoma (cancer of the lymphatic system) makes the treatment completely ineffective.
Laboratory experiments on mice showed that a component of green tea called EGCG destroys anticancer activity of the drug Velcade. Microbiologists were surprised at EGCG blocking any therapeutic action of anticancer drugs.
Herbal remedies, including green tea, have become popular among cancer patients because most anticancer drugs and chemotherapy cause serious side effects. However, according to researchers, natural elements in green tea may be harmful for patients because they are chemically incompatible with anticancer drugs. The study showed that green tea molecules and the Velcade molecules formed chemical bonds but the drug molecules could no longer influence tumor cells. Therefore, the Velcade is not able to fight cancer cells and there are no side effects, so the patient gets to feel better and conclude that green tea helped cope with the disease while in reality the drug wasn't involved at all. Health experts strongly encourage cancer patients to avoid green tea.
Source of the image: ifood.tv.