Romantic design of the collection brings us back to the retro-past. French style, elegance and tenderness are the words that are most appropriate to describe the MAC Glamour Daze limited collection.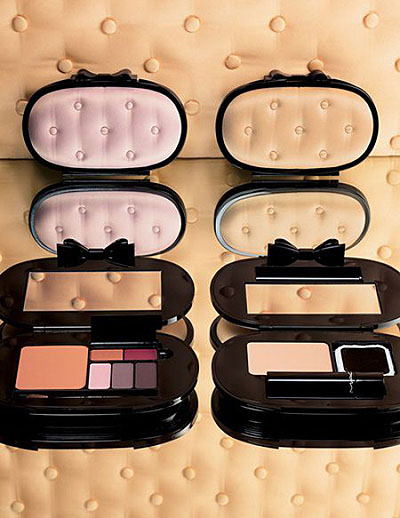 The collection is divided into two parts – separate products and sets of gifts. The collection is huge, and each of these items is a small masterpiece.
A five-color palette of eyeshadows MAC Eyeshadow Palette Limited Edition is presented in three types this year:
Pink Palette,
Green Palette,
Orange Palette.
MAC Face, Eyes & Lip Palette contains three colors of eyeshadows, 2 lip glosses, a powder and a double-sided brush for eyes and lips.
MAC Complexion Touch-Up Palettes is composed of an eyeshadow, a lipstick, and a matting powder. The collection contains three types of palettes.
In general, the presented palettes are of very nice colors. They can be applied on the skin every day and not only on some festive evening.
The collection also includes three sets of MAC Pigments and three MAC Gloss Sets.
The gift sets contain: MAC Leopard Lip Gift Sets of two kinds in pink and orange colors, which are composed of a lip gloss, a cream shadow, a lip liner and a lipstick. There is also a pink leopard cosmetic bag.
MAC Eye Gift Set is represented by three sets for eyes, which include: eyeshadows of two colors, Opulash mascara, a waterproof eye pencil, and a brush. This entire set is presented in a green leopard cosmetic bag.